With an estimated market of more than 600 million Windows laptop and desktop computers that haven't been upgraded in more than four years, a lot of people are now using computers that are very insecure. Windows computers can be hacked and halted at a moment's notice. Hundreds of millions of people are therefore faced with the decision of what they will use for their next computer. There are also millions of high school and college students every year who need a computer to help them complete their educational homework assignments. In previous articles, we have explained why Linux computers are the fastest, more dependable and secure computers in the world. The only reason they are not more popular is that, due to Microsoft and Apple monopolizing the computer market, it is very difficult to even purchase a Linux computer. In this article, we will explain why you can and should create your own Linux computer.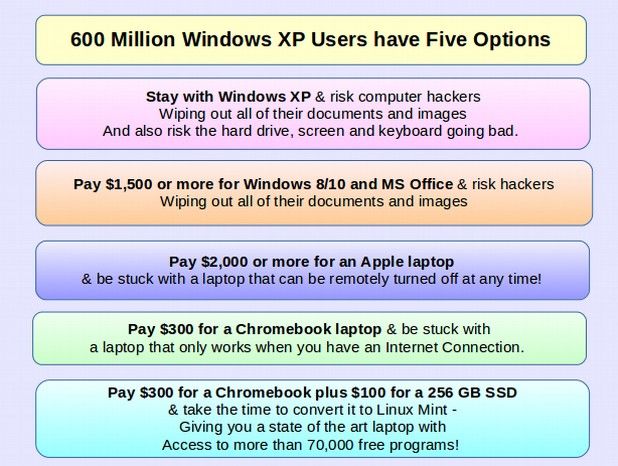 A Brief History of Computers
To better understand why our current computers are so unreliable, we will take a brief tour down memory lane. The software that runs all computers consists of basically three parts – a startup program, an operating system program and a series of application programs.

The startup program sets verifies the power levels of all of the hardware in a computer when it first starts. It checks basic settings and then passes control of the computer over to the operating system. Historically, up until about 2012, all computers used a simple startup program called BIOS – which stood for Basic Input Output System. In 2012, with the introduction of Windows 8, Microsoft forced computer manufacturers to switch to a much more complex and much less secure startup program called UEFI. Apple now also uses the UEFI startup program. The benefit with UEFI if you are Microsoft and Apple is that is gives Microsoft and Apple the ability to turn off any computer that it thinks is running software it does not like by remotely turning off the startup program – preventing the computer from even starting when you push the Power On button. This is commonly called a Kill Switch. The drawback of EUFI if you are a computer user is that your computer is open to remote attack – not only by Microsoft or Apple – but by any computer hacker who wants to turn off your computer. Partly in response to this security risk, the Linux community created a free open source startup program called Core Boot. However, the only current computers using Coreboot are Google Chromebooks. Ironically, the reason they are using Coreboot is to keep the cost down!
The operating system can also present a security risk. In the 1980s and 1990s, programs were created for computers to exchange information over the Internet. We call such programs Web Browsers. Unfortunately, these interactive web browsing programs are the primary way that computers are attacked with weapons we call computer viruses. It was recognized early on that web browsers were a security risk to the operating system.
For many years, the makers of all operating systems including Microsoft, Apple and Linux kept their web browsers separate from their operating system and even put up a series of walls between the operating system and the web browsers (and all other applications) to protect the operating system from being altered by or harmed by programs that we loaded while folks were on the Internet.
This all changed in 1997 when Bill Gates made the shockingly bad decision to incorporate the Internet Explorer Web Browser inside of the Windows 98 operating system. The benefit of doing in the eyes of Microsoft was the ability to turn off the Windows operating system on any computer that was running programs it did not like. Every Windows operating system version since 1998 has had this "feature." To their credit, both Apple and Linux continued to keep their operating systems separate from their web browsers – which is why Linux and Apple computers were more secure and much harder to attack than computers using the Windows operating system.
In 2012, with the introduction of Windows 8, Microsoft made the security program much worse by adding a second operating system, commonly called the Metro or Mobile operating system to their former operating system. This was supposedly done in order to make their computers more compatible with their mobile phones. But whatever the reason, it was and still is a disaster as it requires two separate control panels and two separate web browsers – both of which are inside of their Windows operating system. This means that Windows 8 and Windows 10 both have two back doors – in addition to the UEFI kill switch. This gives hackers several ways to enter the Windows 8 and 10 operating system. This is why security experts warn that Windows 8 and Windows 10 computers are not secure. This is also why the vast majority of web servers (the computers that run the Internet) use Linux.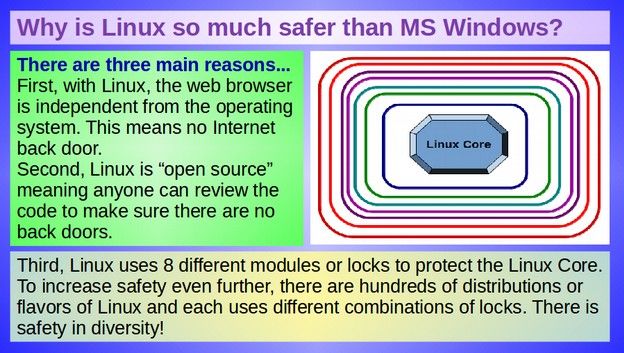 Ironically, while most servers have used the Linux operating system for more than 20 years, less knowledgeable members of the general public were forced to either buy an insecure Windows computer or pay a huge price to get a more secure Apple computer. Linux computers were "blacklisted" from the market due to the power of the Microsoft Monopoly.
Thus, for many years, folks who cared about security and/or privacy typically had to buy a Windows computer and replace the Windows operating system with the Linux operating system – a process that involved changing a couple of settings in the BIOS startup program and only took a few minutes.
Sadly, as we noted above, in 2012, Microsoft forced all computer manufacturers to replace the simple BIOS startup program with the UEFI startup program. While BIOS did not have a kill switch, UEFI does. Contrary to claims made by Microsoft, this kill switch cannot be turned off or disabled. In fact, the code for UEFI is copyrighted and encrypted. Anyone who claims that they know what is in UEFI is mis-informed. Like most dangerous products, the ugly truth of UEFI is deliberately kept hidden from the public. It therefore does no good to put Linux on a Windows 8 or Windows 10 computer – or any Windows or Apple computer made since 2012 – because Microsoft still control the keys to UEFI and can remotely turn off or alter your computer without notice.
Here is what one reviewer said about the dangers of UEFI:
"Modern UEFI firmware is a closed-source, proprietary blob of software baked into your PC's hardware. This blob includes
remote management and monitoring features
, which make it a
potential security and privacy threat
.
You might want to replace the UEFI firmware and get complete control over your PC's hardware with Coreboot, a free BIOS alternative."

https://www.pcworld.com/article/2883903/how-intel-and-pc-makers-prevent-you-from-
modifying-your-pcs-firmware.html
Yet, because UEFI is baked into the hardware of your computer, it is extremely difficult to replace UEFI with Coreboot. Just as bad, there are very few computer companies producing computers with Coreboot. For example, a company called Minifree produces the only computer certified by the Free Software Foundation. It is a 12 inch laptop that costs about $600 and uses an offshoot of Coreboot called Libreboot. They also sell a 14 inch model for $900. However, these supposedly "state of the art" computers are actually 2008 Lenovo Thinkpads with some minor alterations. Equally bad, neither of these computers are wide enough to allow side by side editing with a browser open in half the computer and a word processor open in the other half – especially since the screen resolution on these two computers is only 1280 x 800.

Side by side editing requires at least a 15 ½ inch high resolution 1920 x 1080 screen.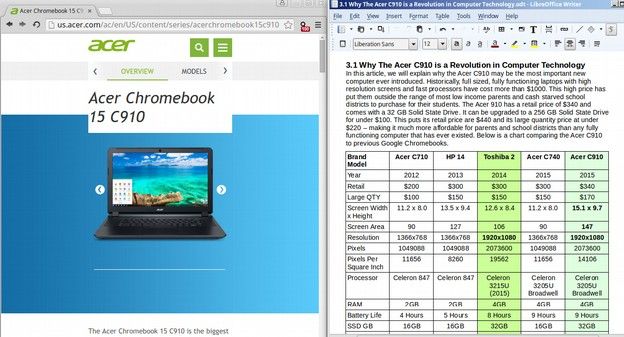 Here is the screen difference between a 15 ½ inch screen and a 13 inch screen. Note that these screens are measured on the diagonal. The actual width of these screens is about one and one half inches less. In other words, the 15 ½ inch screen is 14 inches wide and the 11 ½ inch screen is actually only 10 inches wide:

The most common Linux computer makers, System 76, Think Penguin, Emperor Linux and Purism all sell computers with UEFI – basically making all of them unreliable and nearly worthless for anyone who wants to assure control over their computer and over their data. . If you want a 15 ½ inch laptop prebuilt with Coreboot or Libreboot and Linux Mint, you are currently out of luck. If you want security, privacy and safety, the only way to get it is to create your own Linux computer by converting some other computer to a Linux computer.
In the past, the easiest way to create your own Linux computer was to convert any Pre-UEFI Windows computer (or Pre-UEFI Apple computer). This included almost any Windows XP, Windows Vista or Windows 7 computer made between 2003 to 2012. As we explained in the previous chapter, the five steps are to put all of your documents on a jump drive, then download Linux Mint and create a Linux Mint Live stick. Then set the BIOS of the computer to boot from a USB (or DVD). Then start the computer with the Live Stick in place. Linux Mint will replace Windows. Add back your documents to the Mint File Manager and you are free!
The problem with this process is that as time goes by, there are fewer and fewer older computers. Also, older computers, and especially older laptops, tend to suffer from problems such as the keyboard going bad, the screen going blank and the hard drive crashing. All of these things can be replaced. But older computers are not as reliable as a new computer with a new keyboard, a new computer screen and a new hard drive.
If you want a secure new computer, your only option is a Google Chromebook
Right now, our only option for a secure new computer is to purchase and alter a Google Chromebook. This is because Chromebooks are the only new computers that come with the Coreboot startup program. There are three categories of Chromebooks – Chromeboxes which are desktop computers that attach to an external monitor and keyboard, Chromebases that include a large attached monitor and keyboard and Chromebook laptops that include a monitor and keyboard for folks who need more mobility. Because Chromebook laptops are by far the most popular option and because we are writing this article primarily for students and teachers who overwhelmingly use laptops, we will first look at Chromebook laptop options. (Chromeboxes can be upgraded in nearly the same process as Chromebooks while Chromebases are harder).
Only one model of Chromebook Laptops can be used for Side by Side Editing
The problem with Chromebook laptops is that up until 2015, the screens of Chromebooks were simply too small or had too low of a screen resolution to do side by side editing. The biggest screen was the HP 14 and even that has a low resolution screen. Thankfully, and just in the nick of time, there is finally a 15 ½ inch Chromebook with a high resolution 1920 x 1080 screen. It is called the Acer C910. It is also called the "Education 15" Chromebook because it comes with a special shock resistant black case designed for students. There is also a "white" version with a different model number. But the white version looks ugly pretty quickly. So we will stick with the Acer C910.

Why The Acer C910 is a Revolution in Computer Technology
The Acer C910 may be the most important new computer ever introduced. Historically, full sized, fully functioning laptops with high resolution screens and fast processors have cost more than $1000. Adding commercial software often doubled this price. This high price put fully functioning laptops outside the range of most low income parents and cash starved school districts to purchase for their students. The Acer 910 has a retail price of $330 and comes with a 32 GB Solid State Drive. It can be upgraded to a 256 GB Solid State Drive for under $90. This puts its retail price with a large hard drive at $420 and its large quantity price at under $210 – making it much more affordable for parents and school districts than any fully functioning laptop that has ever existed. Below is a chart comparing the Acer C910 to previous Google Chromebooks.
Brand
Model


Acer C710


HP 14


Toshiba 2


Acer C740


Acer C910



Year





2012





2013





2014





2015





2015





Retail





$200





$300





$300





$300





$330





Large QTY





$100





$150





$150





$150





$170





Width x Height*





10 x 6





12.5 x 7.5





11.5 x 6.5





10 x 6




14 x 8



Screen Area*





60





94





75





60




112



Resolution





1366x768





1366x768




1920x1080



1366x768




1920x1080



Pixels





1049088





1049088





2073600





1049088





2073600





Pixels Per Square Inch





17,485





11,160





27,648





17,485





18,514





Processor





Celeron 847





Celeron 847





Celeron





3215U





(2015)




Celeron
3205U



Broadwell





Celeron





3205U





Broadwell





RAM





2GB





2GB





4GB





4GB





4GB





Battery Life





4 Hours





5 Hours





8 Hours





9 Hours





9 Hours





SSD GB





16GB





16GB





32GB





16GB





32GB





Strong Cover





Yes





No





No





Yes





Yes





Weight (lbs)





3.2





4.1





3.2





3.0





4.8





Startup Program





Coreboot





Coreboot





Coreboot





Coreboot





Coreboot




* This is the actual screen area inside dimensions, not the outside dimensions.
Since its introduction in 2012, the Acer C710 has been one of the most popular laptops in existence for parents and school districts to buy for their students. This was due primarily to its low price of $200 retail (which school districts were able to get for as low as $100 each when bought in lots of one thousand or more… At this price, Acer was essentially giving these things away). There were however several drawbacks to the Acer 710. The first was its screen size which was only 10 inches by 6 inches (measuring the actual interior dimensions). This not only meant a small screen that was difficult to read and did not display much content, but a small keyboard that was difficult for bigger hands to type on. The Acer C710 also came with a low speed processor, a limited battery life and a very small 16 GB Solid State Drive.
In 2013, HP introduced a 14 inch Chromebook that had a bigger keyboard. However, because the screen resolution was the same as the Acer 710, the content on the screen was the same only blown up making it even harder to read than the Acer C710.
In 2014, Toshiba introduced the first low cost Chromebook with a high resolution screen. It currently comes with a high speed state of the art processor for only $300. However, it does not come with a reinforced shell – although colorful cases can be bought for these laptops for an additional $30. It also only has a "13 inch" screen that is actually only 11 ½ inches by 6 ½ inches, making it too small to view two windows side by side.
In 2015, Acer introduced the C910 which has the same high resolution 1920 x 1080 screen as the Toshiba 2. However,

the screen area on the Acer C910 is nearly

5

0% bigger than the

screen area on the Toshiba 2 – 112 square inches versus 75 square inches.

This makes the Acer C910 the first low cost laptop in existence to allow for side by side editing – where a student can have two 7 inch wide document or browser windows open and viewable in a side by side format and view the text in each window clearly without eye strain.
Four Versions of the Acer C910.. But Only Three with High Resolution Screens!
There are four versions of the Acer C910. All four look exactly alike as all four have 15.6 inch screens (which are actually 14 inch by 8 inch screens). The least expensive version (Model 453) has only a low resolution 1366 x 768 pixel screen which is blurry and would cause a lot of eye strain. So we will avoid this version. That leaves three options with 1920 x 1080 high resolution screens – the difference being that they have three different versions of the latest Intel Broadwell processor. These versions are marketed using the trade names "Celeron. I3 and i5."
Model


Acer C910 - C37P


Acer C910-3916


Acer C910-54M1



Retail





$340





$450





$500





Processor





Broadwell





Celeron 3205U





Broadwell i3





Broadwell i5





RAM





4 GB





4 GB





4 GB





SSD





32 GB





32 GB





32 GB





Screen Resolution





1920 x 1080





1920 x 1080





1920 x 1080




What confuses people is that all three of these new Broadwell processors are much faster and more efficient that previous versions of he Celeron, i3 and i5 processors. The new Celeron Acer C910 retails for $350. Because Linux is about 4 times faster than Windows, and because the new Celeron Broadwell processor is about twice as fast as a 4 year old Celeron processor, and because the Solid State Hard Drives in all three options are about 50 times faster than the traditional hard drives most people are used to, there is really no need for anything faster than the new Celeron processor when using Linux.
Why a High Speed Processor is not needed on our Modified Acer C910
No matter how fast your processor

is,

your computer will limited by its slowest component

which is the hard drive. E

ven the fastest hard

drive is extremely slow when compared to your processor. The bigger your operating system and other programs are, the worse this problem becomes. Traditional hard drives aka HDDs are l

imited by the fact that they

a

re

made up

of physical, moving parts.

By sharp contrasts, Solid State Drives or SSDs have no

moving parts.

This allows them to be dramatically faster than SSDs

even though SSDs use half the power of HDDs.

Even the slowest SSD is about 50 times faster than the fastest HDD. Some SSDs are 500 times faster than the fastest HDD.

A Solid State Drive is smaller, faster and more durable (shock resistant) than a traditional spinning hard drive: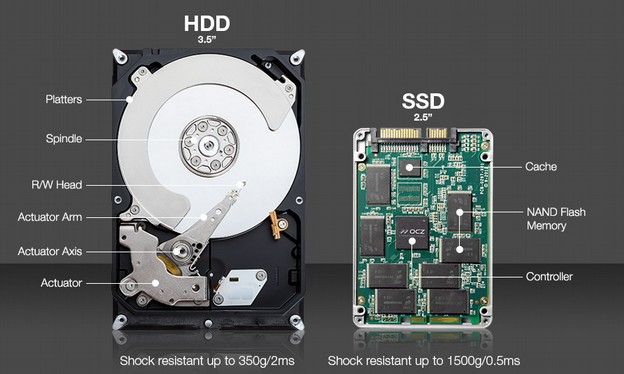 To determine the speed of your computer system, you
also ha
ve
to consider the operating system that is driving the application or end program. Since the Linux operating system is one fifth the size of the Windows operating system, it loads any application 5 times faster than the Windows operating system. Therefore a Linux operating system using a 1.5 GHz Broadwell Celeron processor will be 50% faster than a Windows operating system using an Intel 2.2 GHz i5 processor. This is why we recommend the 1.5 Ghz Celeron version of the Acer C910 Chromebook. It is not that we do not care about processing speed. Rather it is because we intend to load this Chromebook with a 256 GB SSD (with net storage of 240GB) and then replace the Chrome operating system with the Linux Mint operating system. This will result in a fully functional computer that is many times faster than any previous low cost laptop.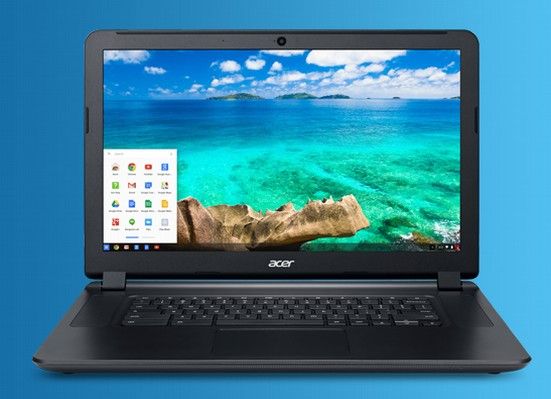 Because the Acer Celeron C910-C37P is the laptop we recommend for schools and students, we will focus the rest of this article on how to convert the Acer Celeron C910 with the 1920 x 1080 screen to a Linux 15 ½ inch fully functioning laptop – a laptop that will be better than any laptop in existence at any price just two years ago.
Before we begin describing the conversion process, we will review some of the benefits of this revolutionary new laptop.
Staples has this revolutionary Acer C910 C37P laptop through mail order for $331.
Item:
IM1YW3028
Model:
NX.EF3AA.004. The Acer part number is NX.EF3AA.004
Benefits of the Acer C910 1Celeron Laptop with a 15 ½ inch 1920 x 1080 screen
The ability to do dual screen side by side editing is only part of what makes the Acer C910 a revolution in computer technology. There are at least four other major innovations that come with the Acer C910 Chromebook:
#1 5th Generation Broadwell Computer Processing Unit (CPU): The new Broadwell processor is basically a Fourth Generation Intel Haswell processor that as been shrunk in size with the addition of about 30% more transistors with 1.3 billion versus 1 billion transistors for the Haswell processor. This huge increase in the number of transistors is possible because Broadwell transistors are only 14 nanometers while Haswell transistors are 22 nanometers. Just 8 years ago, transistors were 65 nanometers. For comparison, a human hair is 90,000 nanometers. Here is what the Fourth Generation Haswell Chip looks like: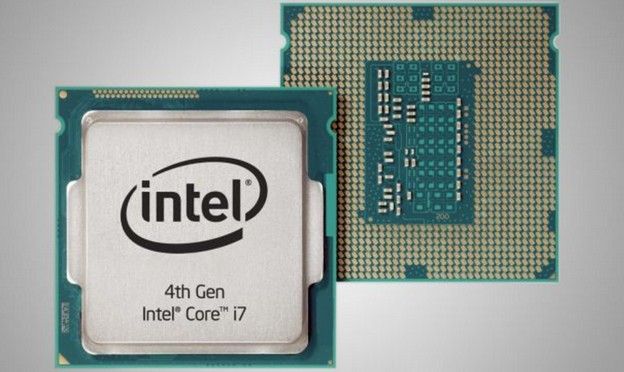 The Broadwell chip is almost 30% more efficient than the Haswell chip. The new Broadwell processor extends the battery life up to 9 hours. But the increase in battery life is only part of the improvement. The real benefit of all of the extra transistors in a smaller space, at least in terms of Chromebook laptops is the ability to display a bigger higher resolution screen – and still have a one hour longer battery life. It is this combination of performance and efficiency that makes Broadwell the best processor ever available in an inexpensive laptop. Broadwell also runs cooler than Haswell (which was also very cool) and is therefore quieter as we are less likely to turn on the fan. This is an important difference when one is doing video conferencing.
#2 4 GB RAM
The Acer C910 comes standard with 4 GB of RAM allowing us to view and process videos on a high speed Internet connection without the screen freezing. The RAM is soldered in place in the Acer C910and cannot be changed. It is therefore important to have 4 GB RAM pre-installed. Thankfully, all four versions of the Acer C910 come with 4 GB of RAM pre-installed.
#3 Replaceable Solid State Drive (SSD)
The C910 also allows an easier upgrade to a bigger 256 GB Solid State Drive – allowing us to increase the storage capacity of the laptop by 1000% for a mere $100. Some Chromebooks have a soldered Solid State Drive meaning they cannot be upgraded. This presents a problem when the SSD on Chromebooks is only 16GB to 32GB. Linux Mint will take up about 6GB leaving only 10GB for all of your other programs, images, videos and other documents. Many Chromebooks do not have an upgradeable SSD. For example, even the most expensive and most recent Chromebook, called the Pixel 2, does not have an upgradeable SSD. For a complete table of models that can be upgraded and the type of SSD required for upgrade, see the following page:
https://wiki.archlinux.org/index.php/Chrome_OS_devices/Chromebook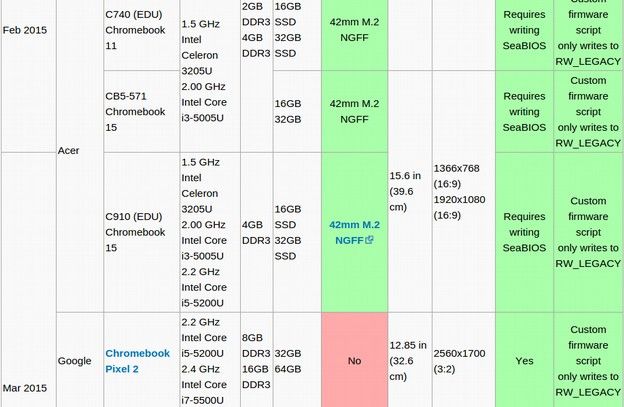 The Acer C910 has a removable 32GB SSD. The fact that it is removable allows us to replace it with a 256GB SSD for an additional $100. A larger SSD helps our computer run faster, while also slightly increasing battery life due to lower power consumption. It is best to upgrade the SSD before replacing the Chrome Operating System with a full Linux operating system as the operating system is actually installed onto the hard drive. We will shortly explain how to replace the 32 GB SSD with a 256GB SSD. Ironically, it would not be necessary to replace the SSD if Acer would have made the SD card slot flush with the side of the Chromebook (as the Toshiba 2 Chromebook is).
#4 Legacy Boot allows us to easily replace the Chrome operating system with Linux Mint
Broadwell also features an important development for Chromebooks called Legacy Boot. In the past, it was difficult to completely replace the Chrome Operating System with a full Linux operating system. The addition of Legacy boot makes this process much easier.
The Acer C910 therefore provides a process to easily replace the Chrome Operating System with a fully functioning Linux Mint operating system. After this replacement, students would not only be able to process documents, videos and images offline, but they would have access to thousands of free open source programs to process these documents, images and videos. These free open source programs are often better than commercial programs costing thousands of dollars. In short, the Acer C910 after upgrading to a 256 GB Solid State Drive and the Linux Mint operating system, opens up a whole new world of educational opportunities for students while saving parents and school districts thousands of dollars per student. In our next articles and videos, we will describe how to upgrade the SSD to 256 GB and how to replace the Chrome operating system with the Linux Mint operating system.
What about waiting for Skylake?
In 2016, Intel will introduce a new processor called Skylake that is even faster than the Broadwell processor. And the following year, they will introduce something even better than Skylake. But our advice is that "a Broadwell processor in the hand is worth two Skylake processors in the bush." We are thrilled with the function of the Broadwell processor in the Acer C910. To show how much better processors have become in the past 6 years, he following is a table showing the rapid progress made by Intel processors.
Rapid Evolution of Processors Since 2010
Intel

Generation


Processor

Name (year)


Transistor Size

(Nanometers)


Average Laptop

Battery Life


# of transistors

(billions)



1st





Westmere (2010)





32nm





4 hours





.4





2nd





Sandy Bridge (2011)





32nm





5 hours





.6





3rd





Ivy Bridge (2012)





22nm





6 hours





.8





4th





Haswell (2013)





22nm





7 hours





1.0





5th





Broadwell (2015)





14nm





8 hours





1.3





6th





Skylake (2016)





14nm





9 hours





1.5




The Acer C910 is the world first fully functional 15 ½ inch high resolution Chromebook laptop with an 8 hour battery life – making it ideal for use by students and teachers who can use it a full day without needing to be plugged into an electric socket. It can be fully recharged in under one hour. The battery is also removable and replaceable. The Acer C910 marks a true revolution in mobile computing. We will therefore focus our article on this innovation and write another article a year from now about the wonders of Skylake.
Why the Acer C910 Chromebook is Better than any Windows or Apple Laptop
The Acer C910 Chromebook is about $330 and comes with a high resolution 15.6 inch screen. It has a 32 GB Solid State Drive (SSD) that can be upgraded to 256 GB SSD for only $90. This Chromebook comes with the Coreboot Startup program and can be converted to the Linux Mint operating system with LibreOffice and thousands of other free programs in about 60 minutes. In this article, we will explain why this $420 Linux Mint Modified Acer C910 Chromebook is better than an Windows or Apple laptop in existence.
Choosing the Laptop Contenders
We have explained why a 15.5 inch screen is essential for side by side editing of two seven inch windows. Even a 15.5 inch screen is only 14 inches wide since the 15.5 inches is measured at a diagonal. This barely leaves room for two 7 inch windows to display side by side. The only laptop Apple offers with this wide of a screen is the Apple MacBook Pro 15 which costs $2,000 without MS Office and weighs 4.5 pounds. It is a well made dependable laptop with almost no negative reviews. Microsoft does not make a 15 inch laptop. The only laptop they make, called the Surface Book, is 13.5 inches at the diagonal - meaning that the screen is really only 12 inches wide. This laptop has only been out a few months and has suffered huge problems. The Surface Book basic model costs $1500 without MS Office and $2000 with MS Office. It weighs 3.5 pounds.
Here is a chart comparing the three laptops:




Mint Modified

Acer C910


Apple MacBook Pro 15


MS Surface Book


Cost with 256 GB SSD


$420


$2000 - $2500


$1500 - $2000


Claimed Width


15.5


15.5


13.5


Actual Screen Width


14


14


12


Operating System


Linux Mint


OS X


Windows 10


Battery Life


9 hours


9 hours


9 hours?


Weight


4.8 pounds


4.5 pounds


3.5 pounds


What makes these three laptops similar is that all three use 256 GB Solid State Drives. SSDs are 50 times faster than traditional spinning Hard Drives. This means that all three of these laptops should be much faster and much more durable than a traditional laptop. Since the Apple laptop is substantially different from the MS laptop, we will compare the Acer C910 to each of them separately.
Why the Acer C910 is Better than the MS Surface Book
The base model of the MS Surface book uses an Intel i3 processor running at 2 Ghz while the Acer C910 uses the Intel Celeron processor running at 1.5 Ghz. A novice might therefore mistakenly conclude that the MS Surface Pro was faster than the Acer C910. But such a conclusion ignores at least three important facts. First and most important, the limiting factor for all computers is not the processor – it is the hard drive. You could have a processor running at 10 Ghz and it would not make any difference since the hard drive is the bottleneck of the computer. This is why SSDs are such a radically important innovation. They are a breakthrough in speed that has rendered the speed of the processor to be almost irrelevant.
Second, the Windows 10 operating system takes up 20 to 30 GB on the hard drive while Linux takes up only 4 to 5 GB on the hard drive. This means even in cases where the processor speed might be relevant, the Windows computer could have a processor that was twice as fast (3 Ghz versus 1.5 Ghz) and still require twice the time to load.
Third, if one is really concerned about speed, one also has to consider the file size of application programs. The full version of MS Office comes in at nearly 5 GB while the full version of LibreOffice – which is loaded for free in Linux Mint – comes in at less than 1 GB. Again, even if the Windows computer had twice the speed in the processor, the Linux computer would still be twice as fast. Bottom line is that anyone concerned about speed should avoid Windows 10. It is by far, the slowest operating system that has ever existed – even slower and buggier than Windows 8!
Why the Acer C910 is Better than the Apple MacBook Pro 15
This is harder. It is easy to bash any Window 10 computer since the Windows operating system is so terrible that it renders any computer to be worthless. Apple uses a much faster and more reliable operating system called OS X. OS X requires only 8 GB on the hard drive meaning that is almost as small and almost as fast as Linux. This is in part because OS X is related to Linux. Therefore an OS X Mac with an i5 or i7 Broadwell processor would be slightly faster than Linux Mint with a Celeron Broadwell processor.
So how can we claim that a $400 Chromebook running Linux Mint is better than a $2000 MacBook Pro? The answer is that the Chromebook is running a much more secure Startup program called Coreboot while the MacBook Pro is using an extremely insecure startup program called UEFI. The file size on Coreboot is only 5 MB while the file size on UEFI is about 100 MB. This makes Coreboot 20 times faster. But more important, UEFI includes a remote kill switch that allows whoever controls the keys to remotely shut down your computer without notice. It literally will never turn on again. It is impossible to turn off this kill switch. MS Windows also uses UEFI. So if you are even slightly concerned about protecting the security of your data, you are much more protected getting a $400 Chromebook and adding Linux Mint than spending $2000 for a Windows or Apple laptop.
Still think the Windows 10 operating system is OK?
Here are some reviews that were recently posted on the MS Store website regarding problems people were having with the MS Surface Book and Windows 10:
After opening the box I was frustrated to find that the computer started already requesting a user name and password. After a frustrating 45 minutes I called support. Long story short it is a known bug. It requires several hard restarts, vol+&Power restarts and after 15 minutes and 10 reboots the new user start screen appeared. 2nd day now and I have had the system crash twice when the screen was removed.
Unfortunately, the system freezes regularly (anywhere between one minute and eight hours between occurrences, but usually less than 15 minutes). Once frozen, it requires a hard reboot. This is not a BSOD, instead the display stays on, showing the desktop, but is completely unresponsive. Another issue is with sleep mode. The system seems to still use a lot of battery power and gets very hot. I cannot put it in a laptop case without first turning it off. If I leave it on in sleep mode, it gets too hot to touch after an hour in the bag. The first issue is so pervasive as to make the system unusable.
I've had two Surface books which I returned. My "1st" Surface Book had 4 open tickets by late evening on the first day. 1) It booted repeatedly to the BIOS like screen. There was no way to exit as it would just keep rebooting to the same screen. 2) The computer randomly froze and the only recovery was a hard power off losing all my work. 3) It would randomly leave the screen on and running when the lid was closed killing the battery and heating the computer. 4) Won't power on sometimes; go figure. After hitting the power button and also by holding it down for thirty seconds, would not power up. Then, letting it sit for a few hours, it would start normally. It also ran at 104 degrees or more just surfing the Internet at 50% brightness on battery. I purchased a second one locally the same day I returned the previous one to MS. I really wanted it to work. However, the local one was returned the next day also. It would also randomly freeze, 3 times in one day. A hard reset was the only recovery mode resulting again in the loss of my data. This laptop is a complete failure. MS should not trouble shoot on my time. If you look, there are hundreds of threads on this thing freezing and not working.
Let's start with the device and driver problems: The display driver. x2. x3. x4. x5. The first glitching problem got fixed 11/2. But that still leaves the (at least twice daily) reminder that "the display driver has crashed and is restarting". At least, it's *usually* restarting. Sometimes it doesn't. The touchpad. Poor response, tweaky sensitivity. Stops functioning entirely quite frequently. The Surface Dock. Just stops working sometimes. Everything on it disappears. Not a power problem, not a connection problem. Just stops. Have to reboot to get it back. Sometimes I just seem to lose the network connection. USB drives. Used 3 different ones. Response is slow, takes forever to show contents. Once the power glitched out on one. Drive disappeared. Then blue screen. Software: The Edge browser certainly looks nice. Until it doesn't, and suddenly changes resolution to be really big or really small. Switching between high resolution and higher resolution Surface Book screen produces unpredictable results about 20% of the time. Remote Desktop is a mess on resolution determination and scaling, even when explicitly setting.
Positives: It's lightweight. The detachable screen is nice, when it doesn't blue screen. The high resolution screen gives great readability. Sadly, this is mostly for reading error messages.
Negatives: Oh, the BSODs. Haven't seen this many since Windows 95. Even get blue screens when using the screen detachment feature about 10% of the time. And there's nothing weird attached here or installed: Microsoft Surface Book Microsoft Surface Dock Microsoft Bluetooth Mouse. That's it. There's nothing revolutionary about making a bug-ridden product and putting on the market.
I bought this three weeks ago, I've switched it out four times. Multiple system/hardware problems. I'm having problems with the current one as well. I don't recommend it. Trust me I think it looks awesome, but this item is so not worth it. The entire screen randomly turns white, it goes insane with a blue screen and says that there is a problem with a :(, the tablet and keyboard have constant connection issues. The fricken battery is currently not charging anymore and the keyboard is too low for me to use at all, so I've been using the touch. I have a busy life that requires a computer that works and is a hundred percent reliable. The surface book is a disgrace to put on the market with all the system issues.
Device barely works with Windows 10 at the moment. Constant display driver crashes and freezes. Battery life is estimated to be 10+ hours but is actually around 2-3 due to driver issues.

This was the utmost frustrating experience I have had with Microsoft to date. To start with, this computer froze on me 3 or 4 times on initial configuration. This machine does not let me install some applications. The machine keeps freezing, showing me those blue screens stating: "CRITICAL_PROCESS_DIED". I had to reset this machine two or three times and it still did the same thing. Now a message "BAD SYSTEM CONFIGURATION...." appeared. USBs and keyboard malfunction at times with no apparent reason. Many other relatively small problems. I do not have any more time or patience to dedicate to this machine.
Surface Book was presented as a competitor for Macbook Pro.The hardware
is solid. But the software kills it. I have posted many issues on answers.microsoft.com about wifi speeds, battery running out when sleeping and lots of other annoyances that ruin the experience. I spent a lot of time for a week and half to get the drivers updated, install new firmware, apply the tweaks mentioned on the various forums and still have many issues.

Folks are starting to figure out that Chromebooks, even without Linux Mint installed, are the best choice. In 2015, about 16 million computers were purchased for educational use in the United States. By the third quarter, Chromebooks were out-selling all other computers, laptops and tablets combined. For the year, more than 8 million Chromebooks were sold in the US. There are more than 50 million Chromebooks worldwide.

"Schools are all trying to get more hardware into the hands of students, and what they're discovering is using a Chromebook and the Google infrastructure, the total cost of ownership is 70 percent lower then iOS or Windows," says Ted Brodheim, who oversees education sales for Samsung.

"In a one-hour class, it sometimes took the Windows machines 10, 15 minutes just to boot up," says David Yang, a school IT manager. "With Chrome, we get a lot more computer time in class."



https://www.futuresource-consulting.com/2015-12-K-12-Google-Chromebooks-2983.html





In our next article, we will explain how the Acer C910 can help close the digital divide that has prevented many students from low income families from being able to fully participate in learning due to lack of access to an adequate computer.