One of the biggest advantages of Linux over Windows is that there are tens of thousands of free open source programs which you can add to customize your computer. In this article, we explain how to use the Linux Mint Software Manager to add any of more than 70,000 programs to your computer.
Add Free Programs
from the Software Manager
Go to the Start Menu and click on Administration, then Software Manager.
Linux offers all kinds of free programs for students and schools. Click on
Science and Education.
There is a Ubuntu edu
cation
primary package and an edu-secondary package.

Both take up nearly one gigabyte.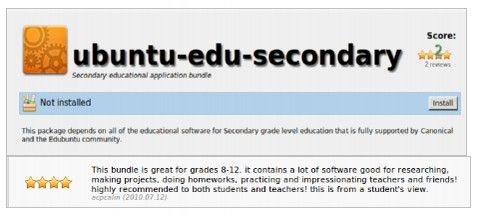 In order to create websites and books, the main tools we will need are more web browsers and free tools for editing images and videos. For web browsers, we will add Chromium. For image editors, we will add Pinta, Krita, and Gpick, For video creation and editing, we will install Open Shot and GUVC View.
While we are at the Software Manager, we will also add Open Clip Art and the Microsoft fonts (ttf ms core fonts). Each of these tools is added simply by entering the name in the search box, then click on the tool to select it, then click install. After all of these tools have been downloaded, close the Software Manager. Then go to the menu and right click on each tool to add it to the bottom panel. Then move it from the bottom panel to the side panel.
Add Free Programs Not in the Software Manager
We will also add a couple of programs that are not in the Software Manager. First, we will add the Google Chrome web browser. The reason we need a variety of web browsers is to see how our websites look in different browsers. Also some functions such as downloading and viewing videos is easier in some browsers than in others. Also when editing websites, we may want to copy sections of one website to another website. This requires having two web browsers open at the same time in a side by side configuration. Finally, if some web editing functions do not work in one browser, we can try it in another browser. To add the Google Chrome web browser, open up either the Firefox or Chromium Web Browser. Then type in the search box Google Chrome Download. Make sure you go to the Google.com website and not some other website. Or just copy and paste the following link:
https://www.google.com/chrome/browser/desktop/index.html
Then scroll to the bottom of the page and click on Get Chrome for Linux:

Click Download Chrome. Then change the package from 32 bit to 64 bit Debian/Ubuntu. Note that Mint is based on Ubuntu which is based on Debian). Then click Accept and Install. This will place the Google Chrome installation program in your Downloads folder. Click on your File Manager to open it. Then click on your Downloads folder to open it. Then right click on the Google Chrome file and select Open with Gdeb package installer.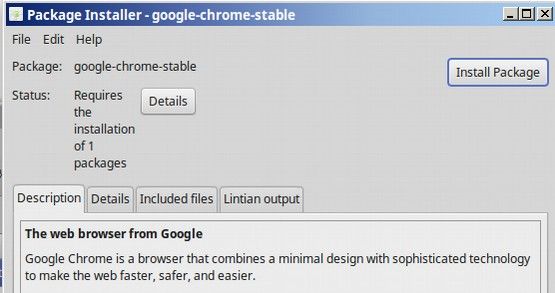 Click Install Package. When it says Installation Finished, then close the window. Then go to the menu and add Chrome to the panel. Then move it to the side panel.
One last important free tool we need for image editing is called XnView Multiplatform. Go to the following web page:
https://www.xnview.com/en/xnviewmp/
Then scroll to the bottom of the page and click on the Linux Deb 64 bit Download button.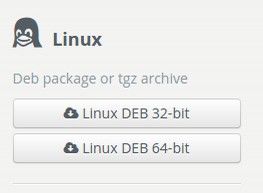 Then go to your Downloads folder and right click on XNView to install it with the Gdeb Package installer. Then add it to the bottom panel and move it to the side panel.
Programs we will add later
There are a few programs that relate specifically to Libre Office. These include the History manager and template-changer-1.2.7b.oxt. We will add these in our next chapter. Other programs will be added in later chapters including Jitsi, Skype, Play On Linux, Kindle Previewer, Sigil and Kompozer.
Change the Start Page in our Web Browser
When we installed Mint, it included the Firefox web browser and was set with Mint as the start page. We you certainly should spend some time reading the Linux Mint forum, which has all kinds of useful tips, we will change the start page for Firefox to Start Page dot com. To do this, open Firefox and click on the three bars in the upper right corner. Then click on Preferences.
Open a new tab and search for startpage.com. Then copy this link, go back to the previous tab and paste it into the Home Page box.
https://startpage.com/
Then click on Search and change the default Search Engine to Start Page.

Then click Content and change the default font from Serif to Liberation Sans.
Then click the three bars again and click Customize. At the bottom of the screen, uncheck bookmarks and check the menu. Displaying then Firefox menu will make it easier for us to clear the browser cache when building and checking web pages.
Set Up the Linux Mint Panels
We can add Quick Launch icons to our Desktop simply by right clicking on the application and then clicking " Add to Desktop." While this is what people commonly do, the problem with placing quick launch icons on our Desktop is that they will be hidden anytime we have two or more side by side windows open at the same time. It is therefore best to not have any quick launch icons on our Desktop. You can remove the Home folder and Computer icons from the desktop by going to the Menu, Control Center and clicking on Desktop Settings. Then uncheck Computer and Home. The remaining quick launch icons can be removed from the Desktop by right clicking on them and selecting Delete. This will not delete the program. It will merely delete the Quick Launch icon.
A second common place to put Quick Launch icons is in the bottom panel. This can be done by right clicking on the application in the Mint Menu. Then click Add to Panel.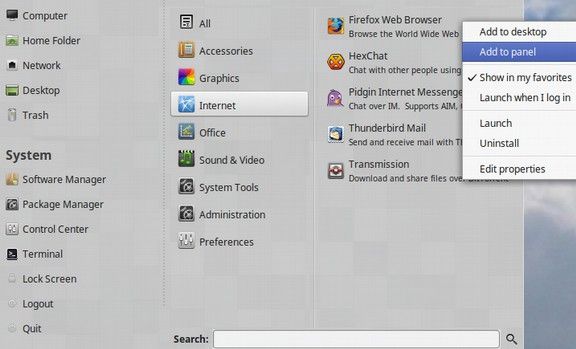 The drawback of this approach is that oue open documents are also shown in the bottom panel. Putting quick launch icons in the bottom panel reduces the amount of space available for open documents – a major problem if we have several documents open at the same time. Here is what the bottom panel looks like with both quick launchers and open documents:

A much more efficient is to place our quick launch icons in a hidden side panel that slides out whenever we need to start an application but remains hidden from view the rest of the time. This sliding side panel in effect adds one more inch to the width of our desktop!
How to Create a Hidden Side Panel
To create a new panel, place your cursor in the bottom panel and right click. Then click New Panel. This will create a new top panel which is not what we want. Right click on this new top panel and click Properties.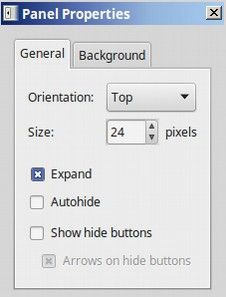 Change the Orientation from Top to Left and the Size from 24 pixels to 54 pixels. Then check Autohide. Then click on the Background tab.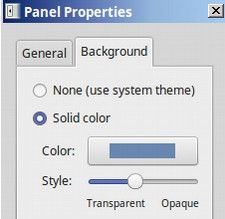 Check solid color. Pick a color that matches your background image and set the transparency for about 50%. Then click Close. This will hide the side panel. Move your cursor to the right edge of the screen to display this side panel.
Add Quick Launch Icons to the Left Side Panel
To add our File Manager to the left side panel, first place it on the desktop by going to Menu, Control Center, Desktop Settings and checking the File Manager. Then click on the side panel properties and uncheck Autohide. Then drag the File Manager into the side panel. Then go back to Desktop Settings and hide the File Manager again.
To move quick launch icons from the bottom panel to the left side panel, just select them and drag them to the side panel. If the icon does not drag, right click on it and uncheck "Lock to Panel." You can also right click on an icon and click Move. Here are the first four icons in our side panel.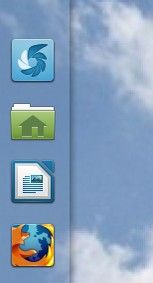 There are two more tools that come with Mint Mate that we will add to this panel. In Accessories, right click on the calculator to add it to the bottom panel. Then move it to the side panel. In Sound and Video, add the VLC media player.
When we are done adding icons, right click on the panel, click Properties and check Autohide to hide the panel.
Now that we have a better understanding of how to use Linux Mint, in the next chapters, we will review how to use Libre Writer and Libre Office.