In this
article,
we will review how to use a free Linux program called
Play On Linux
to install and use Windows based programs
such as Microsoft Office
in Linux Mint.
Folks are usually shocked to learn that not only can Libre Office open and manage MS Word documents but Linux can open and manage MS Windows programs. You should install Play On Linux even if you have no intention of using MS Office because some programs are only available as Windows programs. This includes the Kindle Previewer and Google Sketchup. Play On Linux creates a "virtual Windows machine" inside of Linux which allows you to view Kindle Books inside of Linux. Also learning how easy it is to use Play On Linux will reassure folks who might be worried about running their favorite Windows programs if they know that their Windows programs can still be run even if they make the switch to Linux.
Play on Linux versus Wine
Wine is the most common Linux program used to play Windows based programs. However, Wine can be difficult to learn and use. Play On Linux has a much better User Interface – meaning you just click on buttons rather than entering computer commands into a terminal. We will therefore use Play On Linux.
Download Play on Linux
Play On Linux is most easily downloaded from the Linux Mint Software Manager. Type Wine into the search box but do not select Wine. Instead select Play on Linux.

Then click Install. It is a big program and will take a while to install. Note that Play On Linux will install whatever versions of Wine you need for any Windows program so you do NOT need to also install Wine.

Then go to the Mint Menu and find Play On Linux in the Games section. Right click and select Add to Panel. Then right click on it again in the bottom panel and select Move. Then move it to the hidden side panel. Then click on it to open it. There will be a first use process we need to go through to set it up.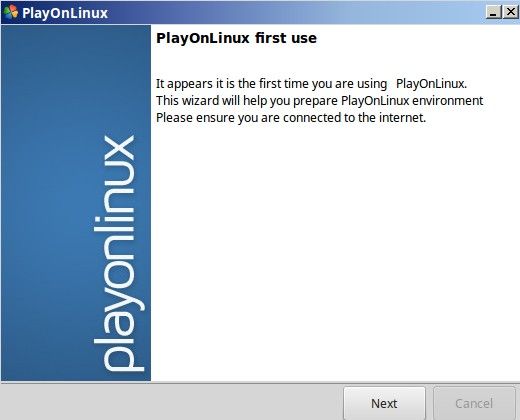 Click Next. Then Next again. During installation, it will ask you to accept the Microsoft license. Check the box and click Yes to finish the install. During installation, if you have a Libre Writer document open do not worry if the Writer fonts become compressed. This will resolve itself once the install is complete. Also do not worry if the installation progress bar becomes stuck at 67%. Wait a few minutes. Then close the Software Manager. You should now find Play On Linux listed in your Mint Applications Menu under Games. First, make sure you are connected to the Internet. Then move Play On Linux to your desktop and click on the icon to open it. It may warn you that you are missing a program.
Go to the Software Center, search and install this extra program.

After the set up process is done, the following screen will appear: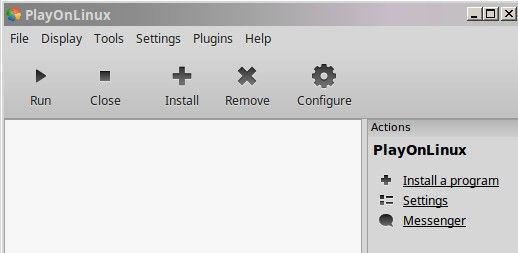 It may say that an updated version is available. For most older Windows programs, it is not necessary to update to the latest version of Play On Linux. We the blue update bar at the bottom of the screen is done loading, we are ready to add any of hundreds of Windows programs.
Install Google Sketchup
Google Sketchup is an example of a program that does not come in a Linux version. But it is a common program for students to learn how to do 3D graphic modeling. We will therefore run through the steps for how to install it with Play On Linux. To install any Play On Linux (POL) supported Windows program is very easy. Just open POL and click on the INSTALL button at the top of the screen. This brings up the Install Menu.

In addition to the above categories of listed programs, you can also install non-listed programs by clicking on the button at the bottom of the screen. First, to get a better idea of our options, click on Accessories.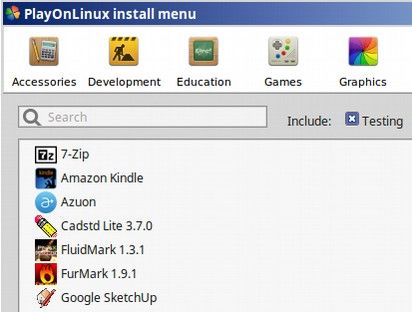 We will eventually install Amazon Kindle and Google Sketchup. There are more than one hundred supported Windows programs – including Office 2003, Office 2007 and Office 2010 (you will need your Microsoft "key" to use these programs. Click on Graphics.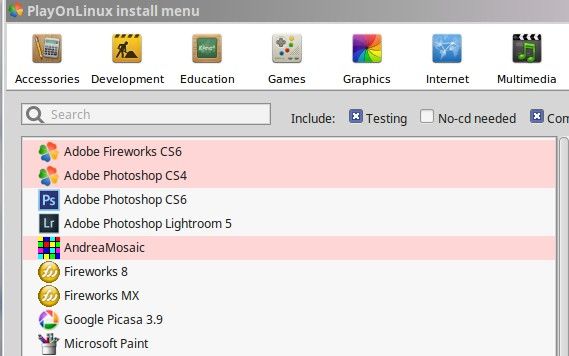 You can install either Photoshop or Microsoft Paint. Photoshop requires a key but Microsoft Paint does not. Next, go back to Accessories and click on Google Sketchup to select it.
Then click the Install button in the lower right corner of the screen. A warning screen will appear: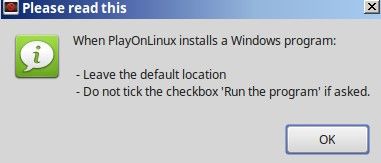 Click OK. An installation wizard will appear. Click Next.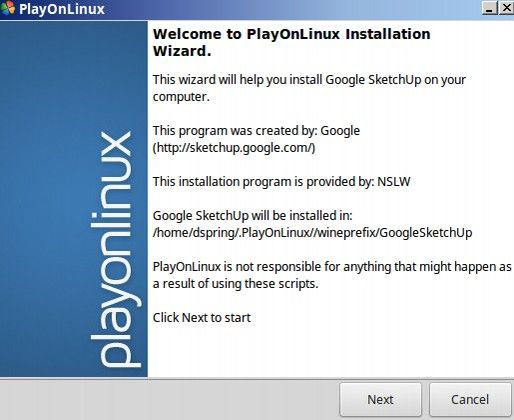 POL will then download the best version of WINE to play this particular Windows program. This step is only needed the first time or two you install a Windows program. After POL creates a Virtual Drive to put Windows programs into, it will ask you if you would like to install a copy of the program from your computer or if you want POL to download the program on its own.

Click Download the program. Then click Next. Then click Next. POL will then download Google Sketchup. Then the SketchUp Set up wizard will appear.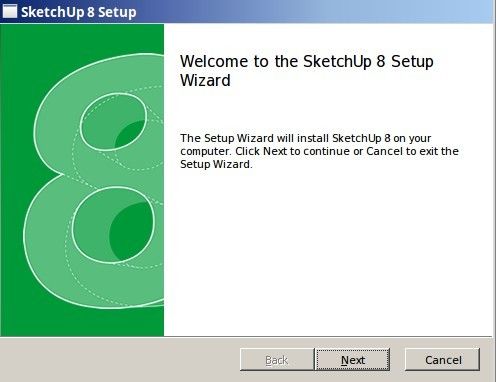 Click Next. Accept the license and click Next. Use the default folder. Click Next. Then click Install. Then click Finish.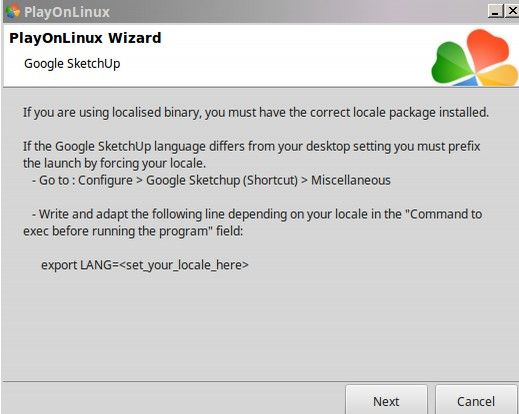 Then click Next. You should now have a Google SketchUp icon on your desktop. You will also have an Google SketchUp link on your Play on Linus start screen.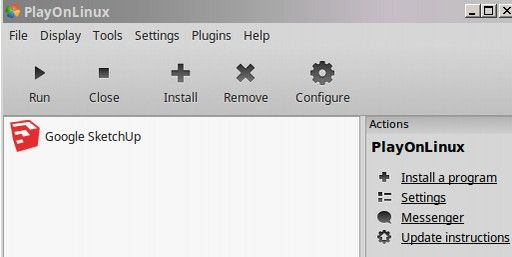 Click on either of these to start Google SketchUp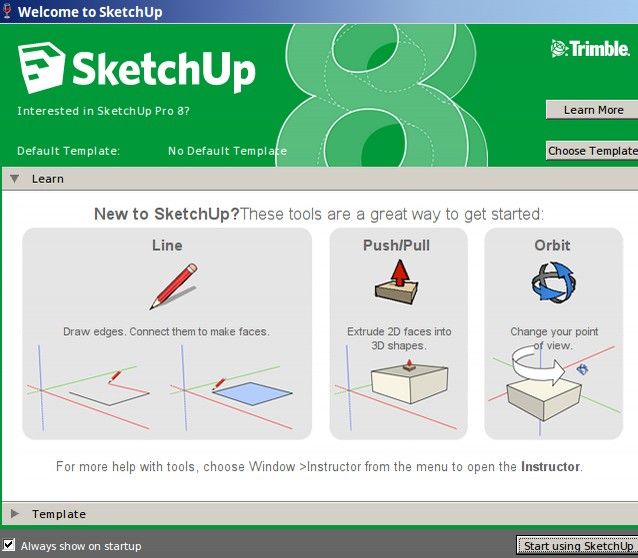 Congratulations. We are now running a Windows program on a Linux Laptop.
Install Kindle Previewer
Kindle Previewer is a tool for creating a special file to submit to Kindle for a Kindle book submission. Unfortunately, Kindle does not offer a Linux version of Kindle Previewer. We will therefore use Play On Linux to download and use this Windows program. First get an online connection. Then go to the following page to download Kindle Previewer for Windows. https://www.amazon.com/gp/feature.html?docId=1000765261
It is a large file of more than 195 MB. It will take awhile to download. During the download the file name will end with the word download. After it is complete, the file name will change to KindlePreviewerInstall.exe. Once we have this file in our Mint downloads folder, click on Play On Linux to open it. Then click Install.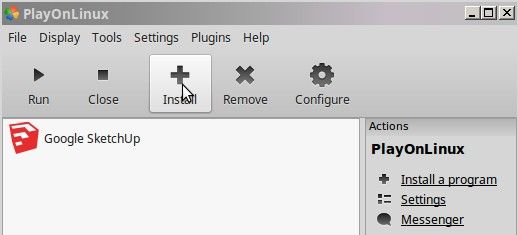 Then click on Install a non-listed program at the lower left corner of the Install Menu page. If this link does not appear, close the window and reopen it.
This will bring up the Manual Installation screen. Click Next.

Leave it set for Install a program in a new virtual drive. Then click Next.

Name the program KindlePreviewer with no spaces. Then click Next.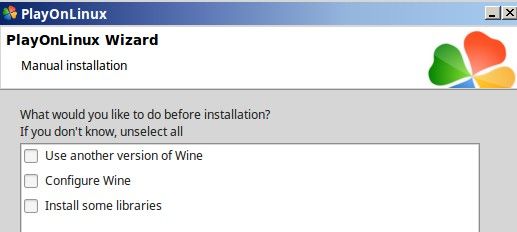 Leave all boxes unchecked and click Next. Then change the screen to 64 bits windows installation and click Next.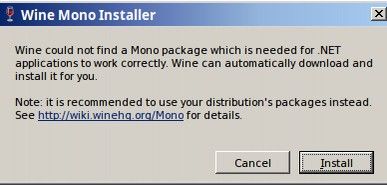 Click Install. When the Wine Mono Installer is downloaded, the following screen will appear asking to download the Wine Gecko Installer. Click Install. This will then be downloaded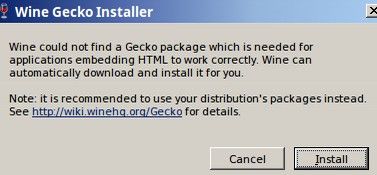 The following screen will then appear.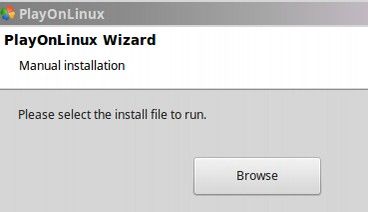 Click Browse. Then go to your Downloads folder and select the KindlePreviererInstall.exe file.
Then click Next. Then click OK. Then click I agree. Then click Install. This will start the Kindle Previewer Windows installation process. When it is completed, click Close. POL will then ask you to choose a file to make a shortcut icon. Select KindlePreviewer.exe. Then click Next. Then click Next. Then close Play on Linux. \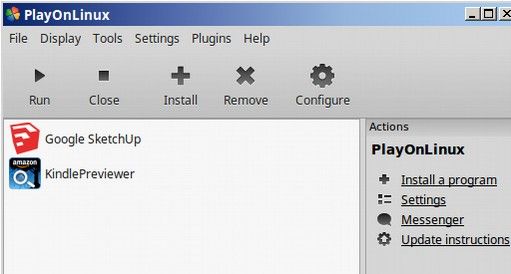 This will place Kindle Previewer icon on your desktop and in Play On Linux. Click either to start the Kindle Previewer.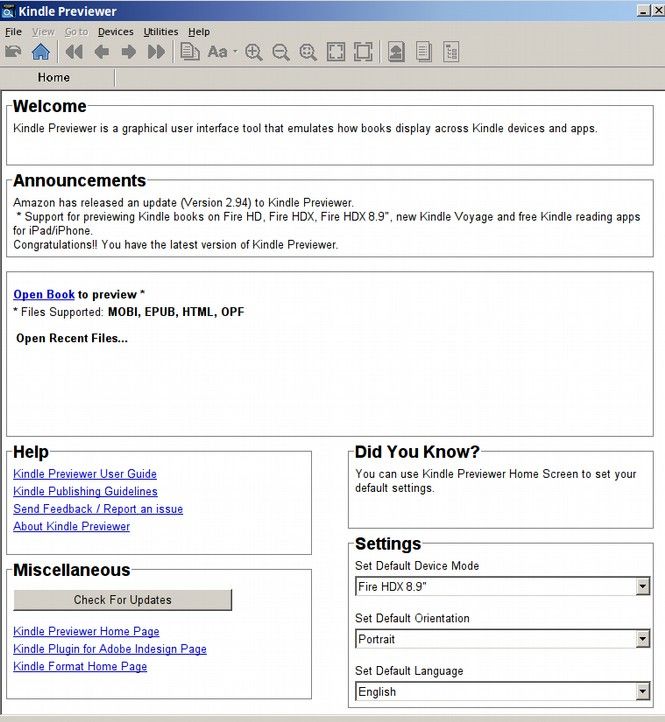 In a later book and website called Create Your Own Ebook, we will explain how to use a free Linux program called Sigil to create a well organized EPUB file for your book. This can then be entered into the Kindle Previewer to create a special Kindle file for your book.
For now, close Kindle Previewer. Then close Play On Linux. If you do not want the Quick Start launchers on your Desktop, you can right click on them and move them to the Trash. They will still appear in the Play On Linux window and can be opened from there.
Summary of How to Install an Unsupported Windows program
As we have just seen, it is pretty easy to install programs which do not yet have an automatic script written. Click on the Play On Linux Install button. Then click on "install a non-listed program" which is at the bottom of the next screen. A wizard will appear. Click Next. Then install a program in a new virtual drive. Then click Next. For the program name, type in a short descriptive name, with no spaces, such as KindlePreviewer. Click Next, then Next again. Browse to the installation file which may be a CD, autorun.exe or downloaded .exe file. Then run through the normal installation steps just as you would if you were installing it into the Windows operating system. What is terrific about Play on Linux is that you no longer need to pay the "Microsoft Windows Tax" just to use Windows based programs.
What's Next?
One of the biggest benefits of using Linux is to provide a secure private computer.
In the final
chapter, we will cover some important steps on Linux security and privacy.