Thank you for clicking on our RSS image. If you already know how to use RSS, here is the link to our RSS Feed:
https://learnlinuxandlibreoffice.org/news?format=feed&type=rss
If you are not familiar with RSS, and would like to know how to use it, here is a brief summary. RSS stands for Really Simple Syndication. It is a tool that was developed nearly 20 years ago to give readers a way to keep up with the latest articles posted on a website you are interested in following without having to actually visit the website.
There are two ways to use an RSS Feed. One way is to display content from one website on another website. The other more common way is to download an RSS Reader onto your computer and then add the RSS link to the program.
Since this is a website about learning Linux, if you have Linux Mint installed on your computer, there is a very easy open source free RSS Reader call Liferea that you can install in the Mint Software Manager. It keeps a record of all of the latest articles from websites you have subscribed to allowing you to read these articles even when you are offline. It also supports podcasts so you only need one tool to aggregate all of your favorite websites and podcasts in one place. Here is what the screen looks like when you first open it.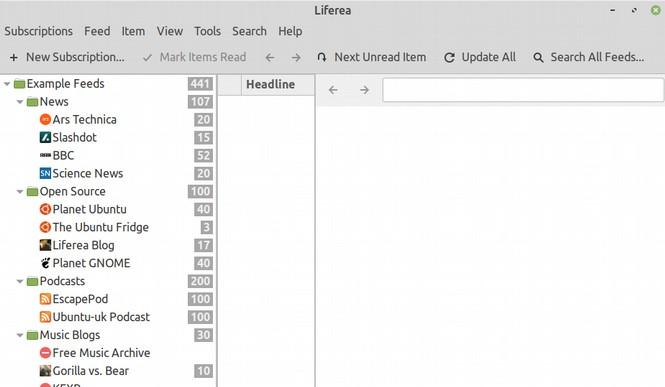 It comes with a bunch of sample RSS feeds. Delete the feeds you do not want. You can also delete any folders or categories you do not want. You can also create new folders by clicking on Subscriptions, New Folder. First, mark all as read with Subscriptions, Mark All as Read. Reduce the number of items to save per feed from 100 to 10 by going to Tools, Preferences. Then add an RSS subscription you want by clicking on Plus New Subscription. This screen will appear:

Enter the RSS URL of any website or podcast that you want to subscribe to. Then click OK. For example, you could enter our News RSS Feed link: https://learnlinuxandlibreoffice.org/news?format=feed&type=rss
Here is what our latest news articles look like in this screen after subscribing: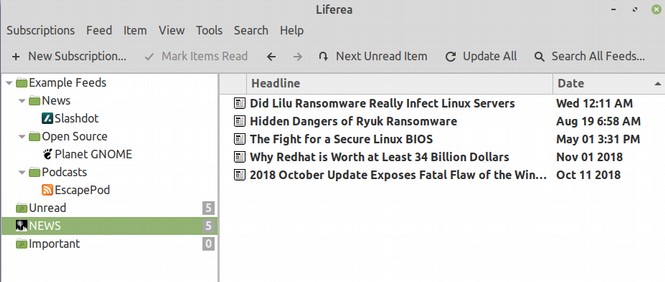 Right click on the subscription and click Properties.
You can change the feed name here to something that might better help you remember this site, such as Learn Linux Website News.
RSS offers several benefits over signing up for an email newsletter. First, it allows you to immediately find out about our latest articles without us having to send you an email newsletter. Second, these important articles are not going to get lost in a mountain of emails (or even worse, wind up in your email junk folder). Third, this is a more secure system because it is much harder to be taken over by hackers. You do not have to worry about SPAM emails either. Fourth, it is more convenient for you as a reader because you do not have to be online or log into your email account to read these articles.
Millions of websites over RSS Feed Links and millions of people review and read articles from their RSS Reader every day. It is a very efficient way to keep up with your favorite websites and podcasts. Best of all, it is free. So give it a try. You will be glad you did.