While Libre Writer works better than MS Word even with no changes, t
he
re are many steps you can take to improve the appearance and performance of Libre Writer
.
In this article, we will show you how to get the most out of Libre Writer.
Just as we made several changes to improve the appearance and performance of Linux Mint, we will review simple steps you can take to make Libre Writer even easier to use.
Simplify
the Libre Office Writer Main Menu
The first step in s
implifying
Libre Writer is to
edit
the
main menu.
Below is the default menu of Libre Writer. It looks very plain and intimidating. Before we begin changing the top menu, we should first outline the
four
rows in the top menu.
Title Bar, Main Menu, Standard Toolbar and Formatting Toolbar

The blue top row is the title bar. The second row with words is the menu bar. The third row is the standard tool bar and the fourth row is the formatting tool bar.

In a previous article, we changed the color of Title bar by clicking on Menu, Control Center, Appearances, Themes.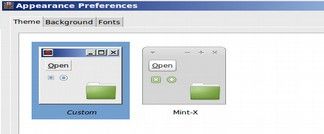 Simplify the Main Menu
The second row is the Main Menu. It has nine menu items which work in almost the same way as Word 2003. We can eliminate any of the items in the drop down menus if we feel we do not need them. For example, the File Menu item has a huge submenu.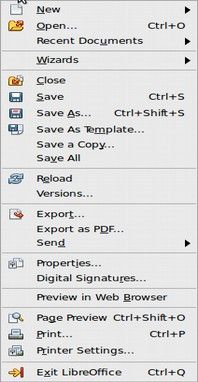 Do we really want to look at all of these choices if there are some we will never use? To get rid of Digital Signatures and Preview in a Web Browser, click on Tools, Customize, Menus.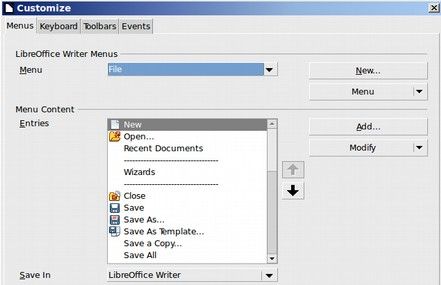 Make sure it is set for the File Menu. Then scroll down to Digital Signatures and click Modify, Delete. Then select Preview in Browser and click Modify, Delete. Then click on the File menu to confirm the change. Make similar reductions in the Edit Menu.
Simplify the Tool Bars
The third row is the Standard Toolbar. The fourth row is the Formatting Toolbar. These last two toolbars can be hidden or simplified by going to the Main Menu and clicking on View, Toolbars.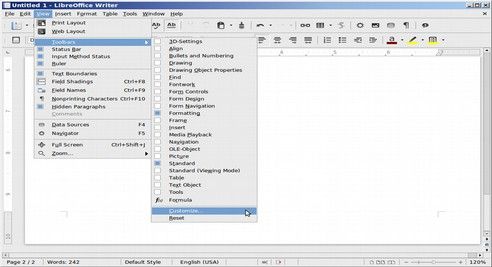 The first thing we will do is turn off the ruler by going to View, Ruler and unchecking the box to the left of the word Ruler. This will give us more space in the Workspace and make our display screen and screen shots less confusing. Next, we will simplify the Standard Toolbar. We will then simplify the Formatting Toolbar.
Simplify
the Standard Toolbar
The benefit of customizing a toolbar is to add any icons you like to use and hide any icons you never use. To customize any toolbar, go to View, Toolbars, Customize. This brings up the same Customize Window we just used to simplify the Main Menu.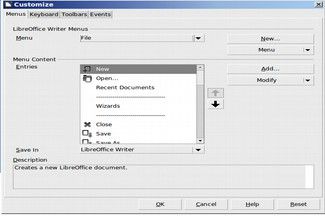 Click on the Toolbars tab.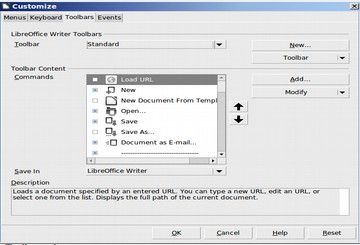 To add a command or icon, check on it. To remove an existing command, uncheck its box. We will remove four commands: Document send as email, Format Paintbrush, Data Sources and Nonprinting characters. Keep unchecking seldom used functions until all icons fit on the row. Then click OK.
Customize the Formatting Toolbar
To customize the formatting toolbar, click View, Toolbars, Customize (or Tools, Customize) to go back to the Toolbars Tab. Then use the Drop down arrow to the right of the word Standard to select the Formatting Toolbar. We will uncheck 8 commands. These are Justify, Left to Right, Right to Left, Numbering, Bullets, Decrease Indent, Increase Indent and Highlighting. Then we will add one very useful command called Select All. Keep unchecking seldom used tools until the tools all fit on one line. Then click OK. Repeat with the Drawing tool bat. We now have a much simpler menu that will be easier to work with.

Your menu may not have all of these colors yet. But don't worry. We will add them soon. Having fewer icons on the menu not only makes it easier for us to find the icons we use most, but it also allows us to narrow the screen size of the LibreOffice Writer window. The benefit of this is that we can have two documents open side by side – to transfer content from one document to another. Or we can have one or more documents open in a cascade on the right side of our screen while having our web browser open on the left side of our screen. Below is a screen shot of what my desktop looks like with three documents on the right in a cascade and the web browser on the left.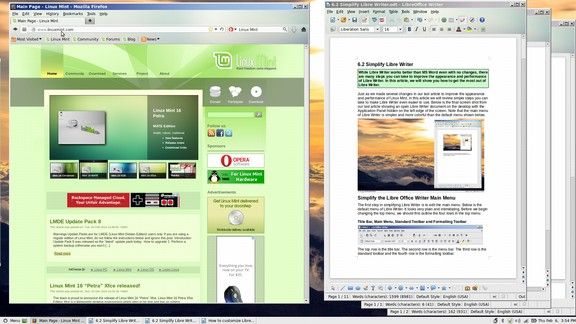 Being able to have multiple windows open side by side is one of the most important reasons to turn off any unneeded icons. This allows you to easily click back and forth between documents. It will also make it easier for you to remember where the remaining icons are on your main menu.
Turn off Word Completion
A common complaint about LibreOffice Writer is the very annoying word completion function. This is a function which tries to complete long words for you. The problem is that most of the time, it guesses wrong and makes it harder for you to type in the word you really want to use. To turn off Word Completion, go to Tools, AutoCorrect Options. Then click on the Word Completion tab.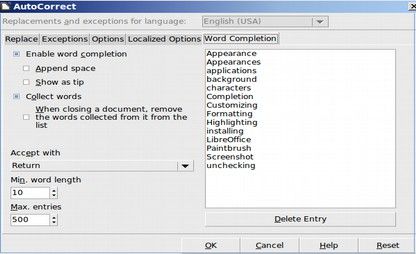 Uncheck Enable Word Completion. Then click OK.
Customize Tools Options
Our next task is to modify a few of the settings on the Tools, Options window. Click on Tools, Options.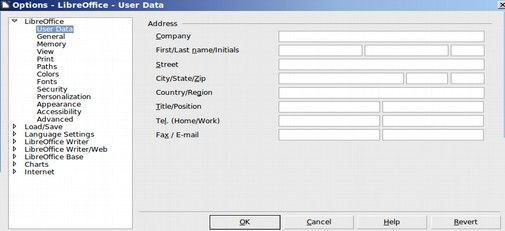 Type in your name. Then click on the Memory tab.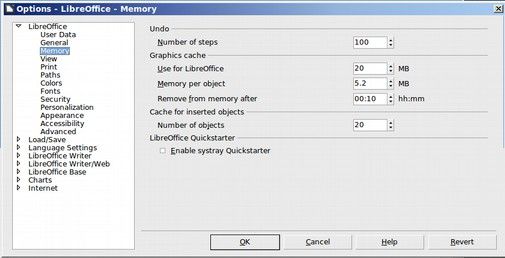 If you insert a lot of images in your documents and write rather large and complex documents, one of the biggest problems with the default settings on LibreOffice Writer is the lack of memory. This can slow down your word processing and even crash the application. Another problem is that LibreOffice will try to remember your last 100 steps. This will also use up memory. To solve both of these problems, reduce the number of steps to 50. Then increase the Graphics Cache to 50 MB and increase the time to 20 minutes.
Next click View. For Icon Size, you can choose Automatic, Small or Large. For Style, you may only have one option called Galaxy. Or you may also have Human and Breeze.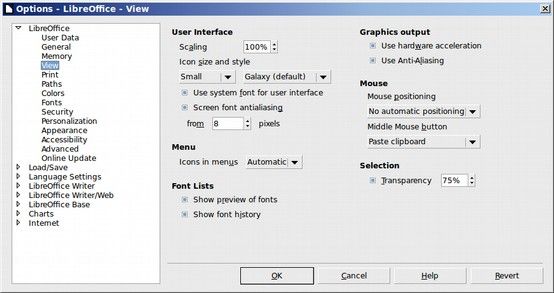 Thankfully, it is pretty easy to get more.
libreoffice-style-oxygen
libreoffice-style-sifr
libreoffice-style-tango
Each can be installed with the terminal using the following command.
sudo apt-get install libreoffice-style-sifr
sudo apt-get install libreoffice-style-
oxygen
Alternately, you can search for libreoffice in the Mint Software Managerand install the tango icons from there. The Crystal icons wanted to remove a bunch of packages. Do not install it.
Here is what Breeze looks like:

Here is Human

Here is Galaxy

Here is Sifir

Here is Oxygen

Here is Tango

Change the Default Pictures folder
A problem with Libre Writer is when you click on Insert Picture, From File in either Libre Writer, Libre Draw or Libre Impress, you are taken to a very strange hidden images folder called gallery.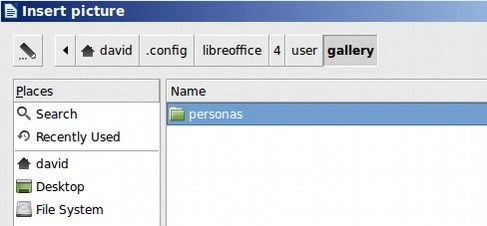 We will use our file manager to create another folder called 0_my_images which is at the top level of our Home folder. We can then make this the default images folder by going to Tools, Options, LibreOffice, Paths:

Change the path to the Graphics folder to /home/david/00_my_images. First, select the graphics row. Then click Edit. Then navigate to the folder you want to use. Then click OK.

Change the Default Templates folder
The templates folder has also been put in a very strange place. Click on File, Templates, Manage and you will see that there are not many templates anyway that have already been created. None of these precreated templates are of much use. Surprisingly, there is no default Libre Writer template in My Templates that we can access to change the default layout of our Libre Writer documents! We will fix this problem in the next article.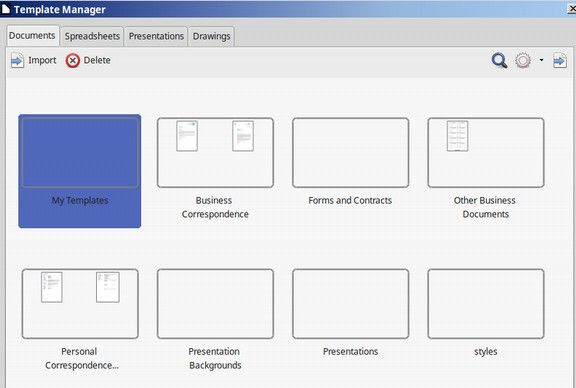 For now, we want to change the default template folder to the Templates folder in our Mint File Manager. Go to Tools, Options, Paths and select Templates. Then click on Edit. Then click Add. Then select the Mint Templates folder.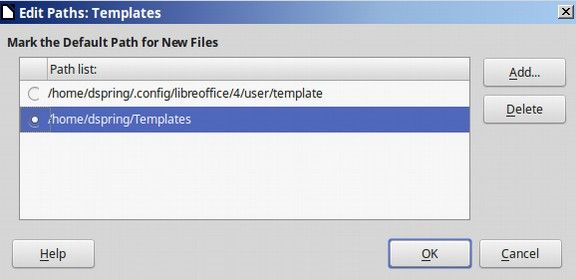 Then select the previous path. Then click Delete. Then click OK. Then click OK again.
Stop Hidden Files from Showing in Libre Writer
When we click on File Open from a Libre Writer document, then click on the Home folder, a bunch of folders appear with a dot at the beginning of the folder name that should not appear.

To hide these folders, from an open document, click File Open. When the file manager comes up, right click in the workspace. Uncheck Show Hidden Files.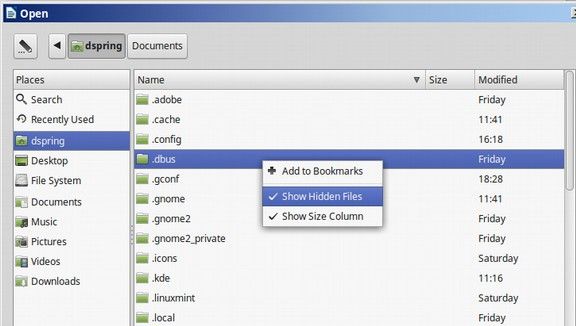 This only needs to be done once. After this, whenever you click file open from LibreOffice only the normal folders will show.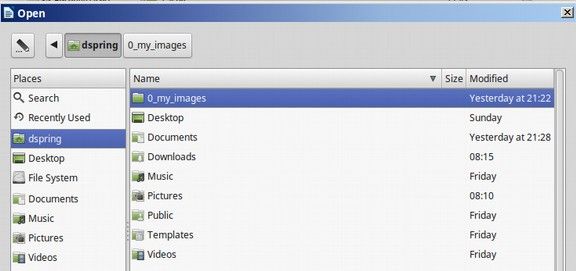 Add Extensions
Below is
an
example of how to install a free extension.
To reach the Libre Office Extensions directory, go to
https://extensions.libreoffice.org/
Then click on
Extensions.

There are currently 198 extensions which are listed by "Highest Rated", "Most Downloads" "Recently Updated" and "Newest" You can also change the category to just display extensions for Writer, Impress or Calc. To check out the extensions for Writer, select these and then click on Search. Scroll down a the second page and you will find the following Diagram Creation extension:

Click on the Extension to go to its page. Then click on the latest release to download it. Save the in your Downloads folder. Then open Libre Office:

Then select Tools, Extension Manager.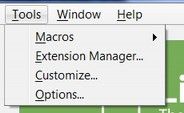 You can also reach the Extension Manager inside of Libre Writer by clicking on Tools, Extension Manager.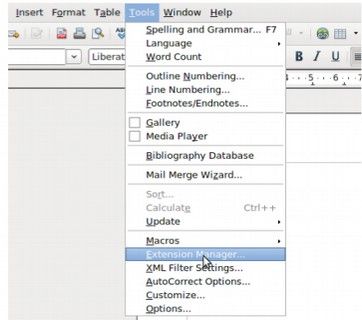 In the Extension Manager screen, click ADD: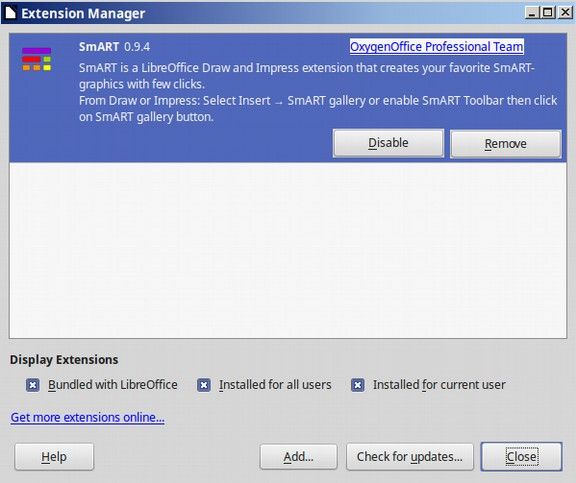 This opens up a browser window. Find the extension in your Downloads folder and select it. Then click OK. Then select All Users. Then Accept the License Agreement. Click on the Close button at the bottom of the screen. You will need to restart Libre Office to access the extension. After installation, the extension will be listed in the Extension Manager which can be reached from the Tools Menu on the Libre Office screen or the Libre Writer screen. After restarting Libre Office, open a Libre Draw document. Then click on Insert Smart Gallery to begin constructing your process diagram.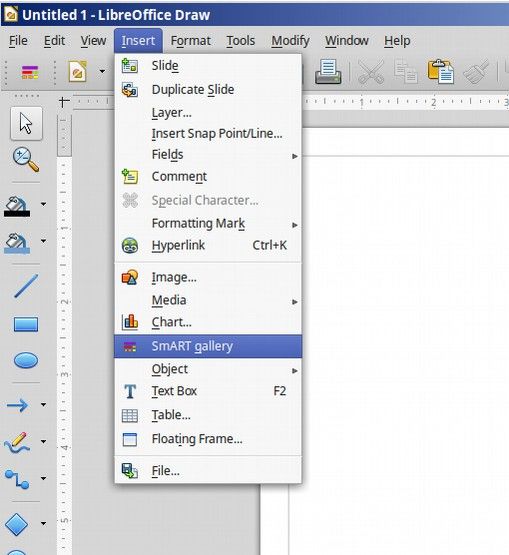 You can create either organizational diagrams:

Or relationship process diagrams:

Other
popular extension
Below are just a few of the extensions you can add to Libre Office.
PDF Import
This extension enables you to make minor modifications to the text of existing PDF files when the original source files do not exist or you are unable to open the source files. (Whenever possible, modify the source and regenerate the PDF to obtain the best results.) When the extension is installed, PDF is listed as a choice in the File Type drop-down list in the File → Open dialog. The best results can be achieved with the PDF/ODF hybrid file format, which this extension also enables. Hybrid PDF/ODF files will be opened in LibreOffice as an ODF file without any layout changes.
Presenter Console
Provides extra control over Impress presentations; for example, the presenter has ability to see the upcoming slide, the slide notes, and a presentation timer—while the audience sees only the current slide.
Professional Template Pack II
Provides more than 120 templates for Writer, Calc, and Impress. Available in several languages. After you have installed this extension, you will find the templates under File → New → Templates and Documents.
Export as Images to export Impress slides as JPEG images.
Parabolic Color Palette
for expanding the color selection in LibreOffice.
Template Changer (for Writer)
Adds two new items to the File → Send menu in Writer that allow you to assign a new template to the current document or to a folder of documents. All styles and formatting will be loaded from that template and the document will behave as it was created using that template. This is extremely useful if you want to create one document using a template for a print book and then create a copy of it for use with another template such as for an Ebook.
It is important to use version 1.7 and not 1.6.
Version 1.2.6 loads into the Tools, Extension Manager, Add. But it does not display the menu item even after restarting the computer. Thankfully, version 1.2.7 works very well.
The link to downloading the new version is
here
:
https://numbertext.org/tmp/template-changer-1.2.7b.oxt
Here is what your Libre Writer menu will look like after installing the Template Changer.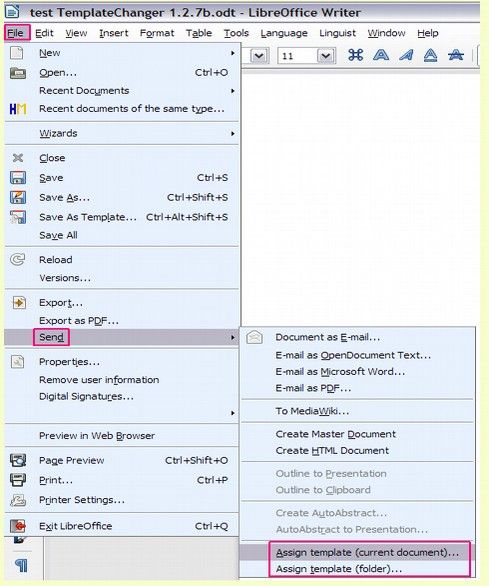 Use History Master
to Increase the Number of Recent Documents
When you first open Libre Writer, it is common to look through a list of Recent Documents to find one you recently worked on and would like to use again. This list is found by going to File, Recent Documents. By default, the maximum number of Recent Documents stored in Libre Writer is ten. Thankfully, there is a simple extension that allows you to increase the number of documents in Recent Documents to whatever you want. To get this extension, go to:
https://extensions.services.openoffice.org/project/HistoryMaster
.

Like nearly all Open Office extensions, History Manager also works with Libre Office. Click on
Get It
to download it. Then save the extension to your Downloads folder. To install this extension, go to
Tools, Extension Manager
and click on the
ADD
button. Then browse to the extension to select it.

Accept the terms. This puts the History Manager in the Active Extensions folder.

While we are here, we will also
add
two more extensions from the LibreOffice extensions manager. These are called
Open Clip Art
and
EPC –
which is a flow chart creator. Next, close all documents and close LibreOffice. Then restart LibreOffice Writer and go to
Tools, Add Ons, History Manager.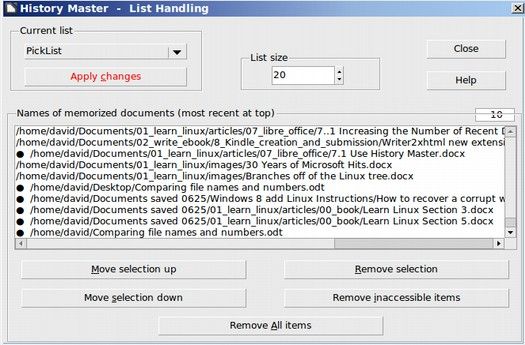 Change the List Size from 10 to 20 so you can have more files in your list of Recent Files. Then click on
Apply Changes
and wait for one minute. Then close History Manager. It will take a while for your list of recent documents to increase. But e
ach time you open a
nd close a
document with L
ibreOffice
,
History Manager
will
add it to the Recent Documents list. History Manager also add a new menu item to the File List called
Recent Documents of the same Type.

What's Next
This completes our customization of LibreOffice Writer.
In the next section, we will review how to create your own custom template
s
for your LibreOffice Writer documents.