Add Extensions to Libre Writer
Below is
an
example of how to install a free extension.
To reach the Libre Office Extensions directory, go to
https://extensions.libreoffice.org/
Then click on
Extensions.

There are currently 198 extensions which are listed by "Highest Rated", "Most Downloads" "Recently Updated" and "Newest" You can also change the category to just display extensions for Writer, Impress or Calc. To check out the extensions for Writer, select these and then click on Search. Scroll down a the second page and you will find the following Diagram Creation extension:

Click on the Extension to go to its page. Then click on the latest release to download it. Save the in your Downloads folder. Then open Libre Office:

Then select Tools, Extension Manager.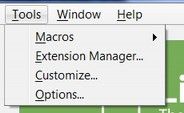 You can also reach the Extension Manager inside of Libre Writer by clicking on Tools, Extension Manager.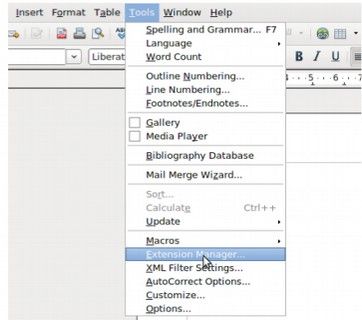 In the Extension Manager screen, click ADD: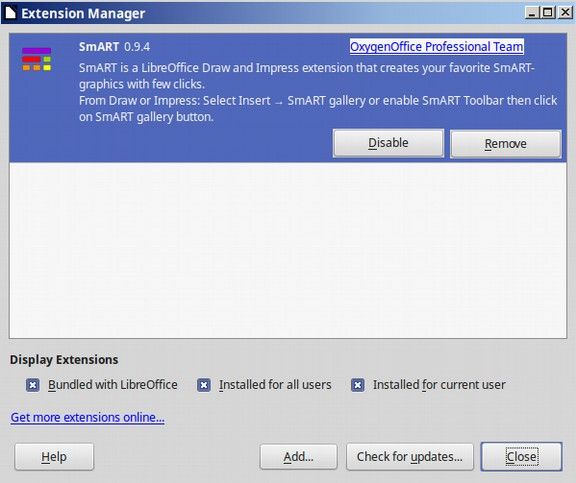 This opens up a browser window. Find the extension in your Downloads folder and select it. Then click OK. Then select All Users. Then Accept the License Agreement. Click on the Close button at the bottom of the screen. You will need to restart Libre Office to access the extension. After installation, the extension will be listed in the Extension Manager which can be reached from the Tools Menu on the Libre Office screen or the Libre Writer screen. After restarting Libre Office, open a Libre Draw document. Then click on Insert Smart Gallery to begin constructing your process diagram.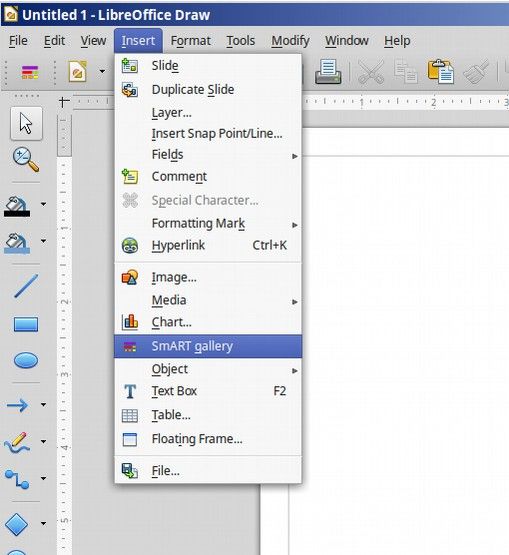 You can create either organizational diagrams:

Or relationship process diagrams:

Other
popular extension
Below are just a few of the extensions you can add to Libre Office.
PDF Import
This extension enables you to make minor modifications to the text of existing PDF files when the original source files do not exist or you are unable to open the source files. (Whenever possible, modify the source and regenerate the PDF to obtain the best results.) When the extension is installed, PDF is listed as a choice in the File Type drop-down list in the File → Open dialog. The best results can be achieved with the PDF/ODF hybrid file format, which this extension also enables. Hybrid PDF/ODF files will be opened in LibreOffice as an ODF file without any layout changes.
Presenter Console
Provides extra control over Impress presentations; for example, the presenter has ability to see the upcoming slide, the slide notes, and a presentation timer—while the audience sees only the current slide.
Professional Template Pack II
Provides more than 120 templates for Writer, Calc, and Impress. Available in several languages. After you have installed this extension, you will find the templates under File → New → Templates and Documents.
Export as Images to export Impress slides as JPEG images.
Parabolic Color Palette
for expanding the color selection in LibreOffice.
Template Changer (for Writer)
Adds two new items to the File → Send menu in Writer that allow you to assign a new template to the current document or to a folder of documents. All styles and formatting will be loaded from that template and the document will behave as it was created using that template. This is extremely useful if you want to create one document using a template for a print book and then create a copy of it for use with another template such as for an Ebook.
It is important to use version 1.7 and not 1.6.
Version 1.2.6 loads into the Tools, Extension Manager, Add. But it does not display the menu item even after restarting the computer. Thankfully, version 1.2.7 works very well.
The link to downloading the new version is
here
:
https://numbertext.org/tmp/template-changer-1.2.7b.oxt
Here is what your Libre Writer menu will look like after installing the Template Changer.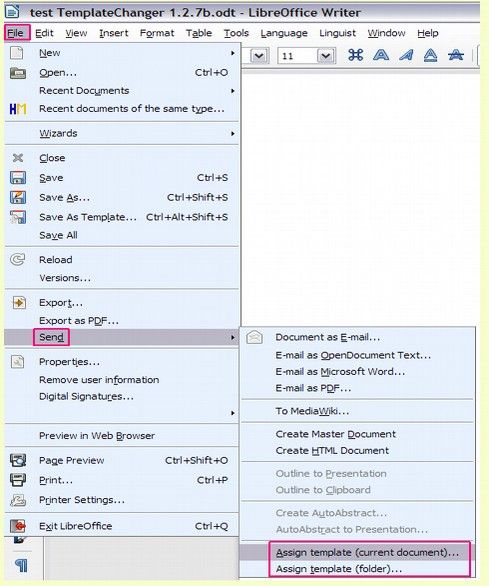 Use History Master
to Increase the Number of Recent Documents
When you first open Libre Writer, it is common to look through a list of Recent Documents to find one you recently worked on and would like to use again. This list is found by going to File, Recent Documents. By default, the maximum number of Recent Documents stored in Libre Writer is ten. Thankfully, there is a simple extension that allows you to increase the number of documents in Recent Documents to whatever you want. To get this extension, go to:
https://extensions.services.openoffice.org/project/HistoryMaster
.

Like nearly all Open Office extensions, History Manager also works with Libre Office. Click on
Get It
to download it. Then save the extension to your Downloads folder. To install this extension, go to
Tools, Extension Manager
and click on the
ADD
button. Then browse to the extension to select it.

Accept the terms. This puts the History Manager in the Active Extensions folder.

While we are here, we will also
add
two more extensions from the LibreOffice extensions manager. These are called
Open Clip Art
and
EPC –
which is a flow chart creator. Next, close all documents and close LibreOffice. Then restart LibreOffice Writer and go to
Tools, Add Ons, History Manager.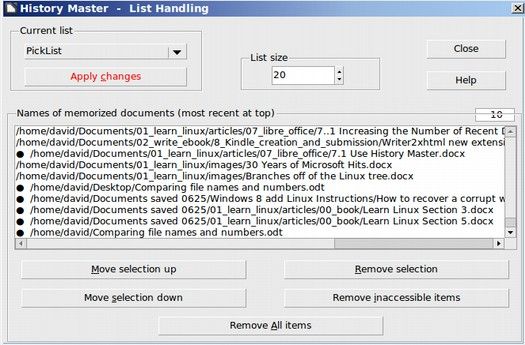 Change the List Size from 10 to 20 so you can have more files in your list of Recent Files. Then click on
Apply Changes
and wait for one minute. Then close History Manager. It will take a while for your list of recent documents to increase. But e
ach time you open a
nd close a
document with L
ibreOffice
,
History Manager
will
add it to the Recent Documents list. History Manager also add a new menu item to the File List called
Recent Documents of the same Type.

What's Next
This completes our customization of LibreOffice Writer.
In the next section, we will review how to create your own custom template
s
for your LibreOffice Writer documents.