There are a couple of drawbacks to LibreOffice. The first is that it does not come with as detailed of a color selector as MS Office. The second is that it does not come with a Gradient Background selector. In this article, we will review how to fix both of these problems.
How to Add Colors to LibreOffice
If you open a LibreWriter or Libre Draw document, then click on the font color selector, you will see the default color options.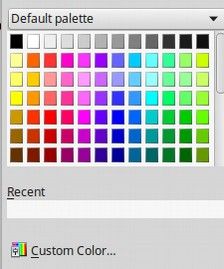 You can slide down the scroll bar to reveal more color options.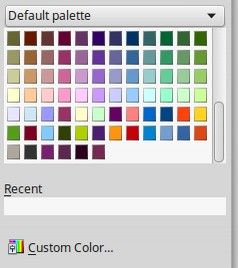 You can also click on Custom Color to bring up a color selection tool.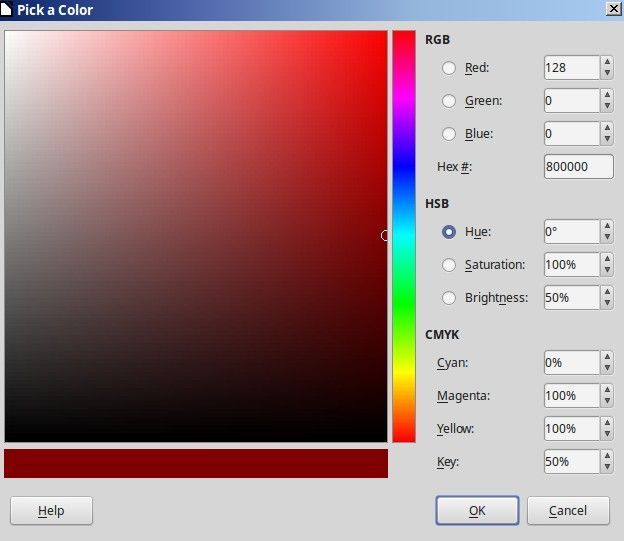 Finally, you can click on the drop down arrow to the right of the default palette to change the color options.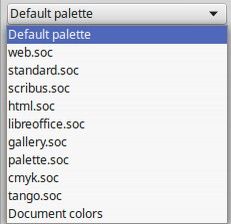 These color lists are all located inside of your File Manager in a file called libreoffice/4/user/config.
We previously downloaded a LibreOffice extension called Parabolic Palettes that can in a zipped folder. Unzip this folder and you will see that it has 4 PNG images and 4 SOC files. The SOC files are the color files. Since we want as many colors as possible, we will delete the 5x3 options and open the PNG images for the 7x5 options.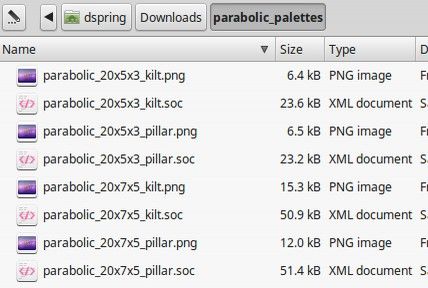 Here is Kilt: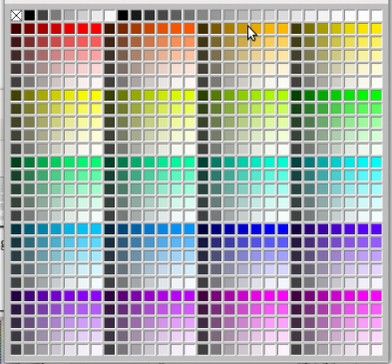 Here is pillar: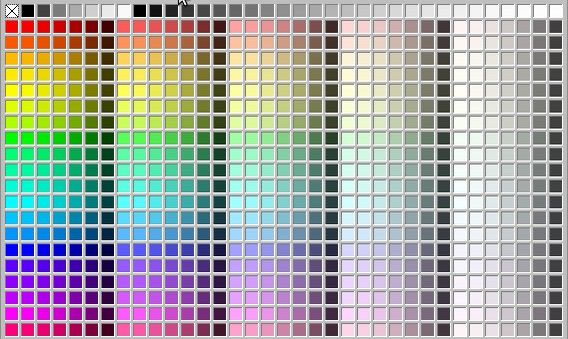 We will copy and paste both into the libreoffice/4/user/config folder using our Mint File Manager. Now when we open the LibreOffice Font color choices and click on the Default palette, we have a couple more palette options to choose from. We can also add colors to the default color picker in Libre Writer by going to Tools, Options, Colors and clicking on Add: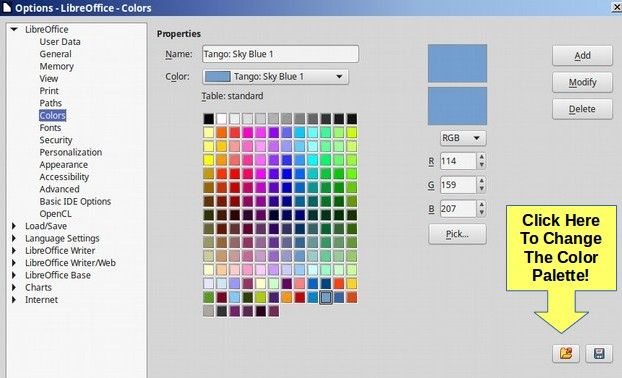 We can also change the default color palette by clicking on the orange folder. However to keep things simple, we will simply create a few new light colors called
Very Light Blue with EEEEFF
Very Light Green with EEFFEE
Very Light Pink with FFEEEE
Very Light Purple with FFEEFF
Very Light Yellow with FFFFEE
Very Light with EEFFFF.
These will be the base colors for our 6 gradient background colors. Each color is created by clicking "Pick" Then using the Hexidecimel option to create the color.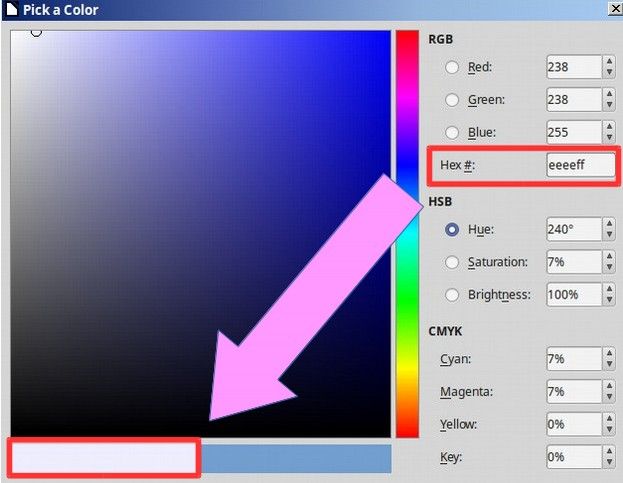 Then click OK. Then click Add and give the color a name. Then repeat to add the other five very light colors. Once we have our 6 very light colors added to the default palette, we are ready to create 6 new light gradient colors.
Create New Linear Gradient Background Colors
Open a new Libre Draw or Libre Impress document. Then click on Format, Area. Then click on the Gradients tab. Then scroll down and click on the Deep Blue gradient.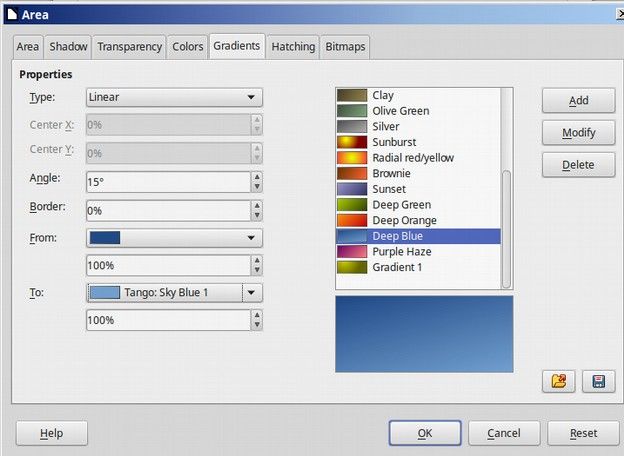 It is a linear transition from dark blue to light blue at a 15% angle. Change the angle to 0%. Then change the top color to Very Light Blue. Change the bottom color to Blue 1.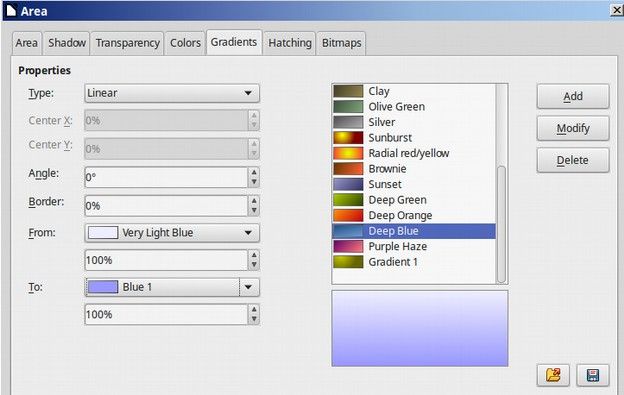 Then click Add and name the gradient 0 Light Blue. Click OK.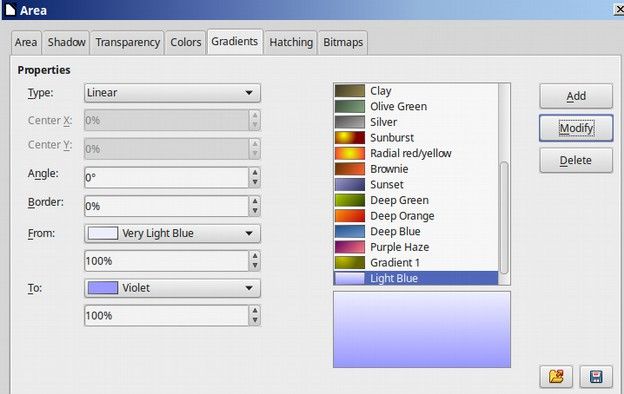 Change the From color to Very Light Green and the To color to a slightly darker green (but not dark green). Then click Add and name it Light Green. Add Light Pink, Light Yellow, Light Purple and Light Sky Gradients using these same steps. Then select and delete most of the other gradient colors.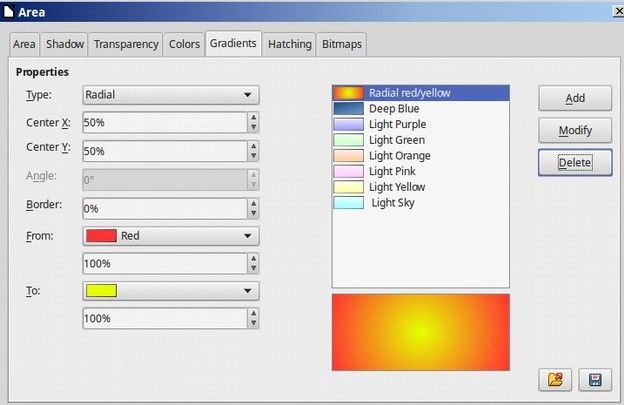 Create New Radial Gradient Background Colors
We will next use the Radial Gradient color to create some radial gradient background colors. Change the from color from Red to Sky Blue 1 and the To color to Very Light Sky. Then click Add and Name it Radial Sky Blue.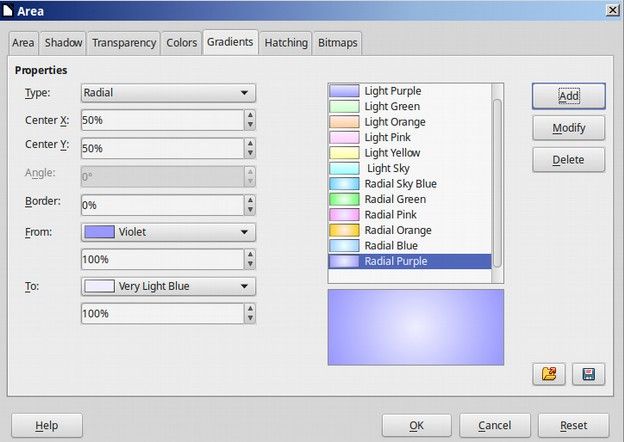 When we are done, click OK. Now open a Text box in Libre Writer. Select the text box to bring up the area color selector in the top menu. Change the selection from Color to Gradient. Then choose the Radial Purple gradient.

We now can add text boxes with interesting backgrounds to our articles. In the next article, we will review how to create a diagram with Libre Draw.